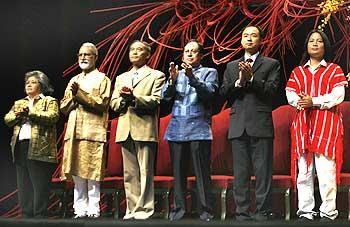 The winners of the Ramon Magsaysay 2009 Award applaud during the awarding ceremony at the Cultural Centre of the Philippines in Manila on August 31.
(From Left to Right): Krisana Kraisintu of Thailand, Deep Joshi of India, Yu Xiaogang of China, Antonio Oposa Jr of the Philippines, Ma Jun of China, and Ka Hsaw Wa of Myanmar.
The award, which comes with a medallion and $50,000, is given annually to 'Asia's Heroes'.
Photograph: Romeo Ranoco/Reuters