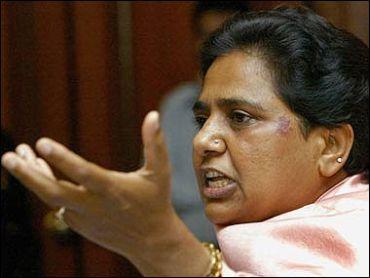 A fuming Mayawati on Sunday accused Samajwadi Party government in Uttar Pradesh of political vendetta after hoardings installed by her Bahujan Samaj Party on B R Ambedkar's birth anniversary were allegedly removed and said SP "goons" will be "taught a lesson" when she returns to power.
Reacting sharply to Mayawati's remarks, the Samajwadi Party said the BSP supremo should understand that she would never come to power in the state and should learn to live without it.
Addressing a function to mark Ambedkar's 122th birth anniversary in Lucknow, Mayawati said during her government land was leased to marginal farmers, but under the present regime it was being grabbed by SP "goons and party workers".
"Jab hamari party ki sarkar banegi tab aise logon ko toda jayega aur aisa seedha karenge ki phir woh kabhi zameen par kabja nahi kar payenge (When our party comes to power, such people will be strongly dealt with and they will be taught a lesson so that they will not dare to grab land in future)," she said.
The former chief minister alleged that members of the opposition parties were being victimised for political vendetta and "BSP is being made number one target".
The BSP supremo was infuriated over removal of hoardings installed near Bhimrao Ambedkar Samajik Parivartan Sthal to mark Ambedkar's birth anniversary.
"The government knew that it was Babasaheb's anniversary and lakhs of people will come to pay tribute to him. On this occasion hoardings are installed across the country for which no permission is required," she said.
Mayawati said that considering the approach of the SP government, her partymen took permission from the local body to install hoardings near the Sthal.
"Till yesterday, a large number of hoardings were installed within three kilometres of the 'sthal', but I have come to know that a lot of drama took place last night and on vthe directive of SP government, all of them removed. No matter how strongly such actions are condemned, it won't suffice," she said.
Accusing the officers of working on the diktats of the SP government, Mayawati warned that they were being "watched and would be taken to task" when BSP comes to power in UP again.
The ruling SP hit back accusing Mayawati of acting against Ambedkar's ideology by dividing the society and suggested that "she should read more about Dr Ambedkar".
SP spokesman and cabinet minister Rajendra Chowdhury said "it's laughable that Mayawati is talking about law, which she never followed."
"Mayawati should understand that she could never come to power in the state and should learn to live without power...In her regime, she only involved in corrupt practices in the name of dalit icons," he alleged.
"Mayawati, who is talking about dalits and backwards, should tell whether she met any of them when she was the chief minister. Fake cases were lodged against over one lakh SP workers and number of BSP ministers, MLAs are under CBI and Lokayukta scanner for disproportionate assets," the SP spokesman said.
The SP reaction came as Mayawati alleged that memorials and parks constructed in the name of dalit saints and icons were not being maintained.
"The recently held bypoll for Bhatparani assembly seat in Deoria was rigged and even a senior officer admitted it. Now another by-poll for Handiya seat is due.
"This time too, we will closely watch the irregularities and when BSP comes to power, an inquiry would be conducted and stern action will be taken against such officers," Mayawati warned.
The BSP supremo said that during her regime no communal tension was allowed to surface even at the toughest time.
"When judgment of Ayodhya title suit was to be pronounced, there was an atmosphere of fear across the country and most of the states closed schools, colleges and offices," she said, adding the request of UP for central forces was turned down by the Centre.
"From the available state police force, the situation was handled, not a single school or office was closed and there was no communal tension in any part of the state," she said.
In one year of SP rule, more than 100 communal riots took place and there were serious incidents at three dozen places, Mayawati said.
Mayawati claimed that development has come to a standstill and there was corruption in the name of inquiries.
Citing the recent case of Bulandshahr, in which a 10-year-old rape victim was allegedly detained by police, Mayawati said women and girls were not safe under SP regime.
"I express gratitude towards the Supreme Court that it took cognisance and sought a report from the state. I would like to request the SC to take initiative to ensure justice in Alwar case, where a Dalt girl was raped," she said.
National capital Delhi, ruled by the Congress, was not far behind on atrocities on women, the BSP chief alleged.
On the issue of price rise of essential commodities, she said that people were facing a tough time due to wrong policies of the Centre.