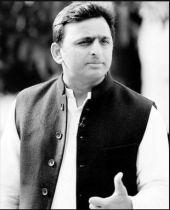 Having invited much criticism for his mild mannerisms and soft ways, Uttar Pradesh Chief Minister Akhilesh Yadav is apparently out to cast himself in a new mould. And the first demonstration of his assertive action came late Saturday evening with the sacking of Khadi and Village Industries Miinister Raja Ram Pandey for use of intemperate language, deriding womanhood.
Pandey, who had once got away for making derogatory references about two senior women IAS officers at a public function in his home district Pratapgarh, repeated the same kind of language at a press conference in Pratapgarh itself.
Replying to a question about the poor quality of roads in Pratapgarh, Pandey said, "Zara intezar keejiye; thore dino mein in sarako ko hum Hema Malini aur Madhuri Dixit ke gaalon jaisi bana denge" (please wait for sometime; it is a matter of few days; we will make all these roads like the cheeks of Hema Malini and Madhuri Dixit).
The minister thought he would get away with his loud tongue as there were no TV cameras at the press conference. However, he was quoted in two leading Hindi dailies, of which the chief minister took serious note.
Even though Pandey enjoys close clout with Akhilesh's father and Samajwadi Party patriarch Mulayam Singh Yadav, the chief minister insisted on his removal from his cabinet.
Mulayam, who had been himself urging the son to become assertive, readily conceded when Akhilesh drew his attention to the bad name Pandey had been giving to the government simply because of his unparliamentary utterances. Pandey also drew his strength from his close nexus with ousted minister Raghuraj Pratap Singh Raja Bhaiya.
Basically a builder, known for blatantly violating all rules and regulations, Pandey was also notorious for indulgence in all kinds of corrupt practices. He had turned the state khadi and village industries board into a hotbed of corruption, but always managed to get away.
Asked to comment on his ouster, Akhilesh Yadav told Rediff.com over telephone late Saturday night, "Enough is enough; we pardoned him for his misdemeanour when he made certain ugly references to a woman district magistrate because he was apologetic and promised to mend his language; but use of similar unparliamentary references for women once again show that he is incorrigible; therefore action became inevitable."
Akhilesh, who sacked the state police chief Friday night, also ordered a high-level administrative reshuffle on Saturday evening.
Image: Akhilesh Yadav