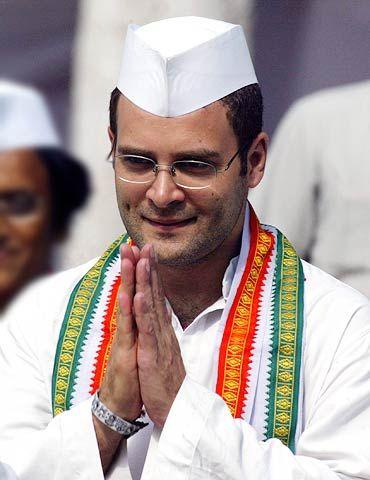 Congress leader Rahul Gandhi has decided to join the government as time is running out for him and his Congress party.
Rahul is likely to be appointed defence minister and may also take up the responsibility of Leader of the House in the Lok Sabha, a position vacated by Pranab Mukherjee when he became a candidate for the Presidency.
To become Leader of the House, Rahul has to be appointed a Cabinet minister.
Last week, top Congress officials ruled out any change in the prime minister or party president. Dr Manmohan Singh and Sonia Gandhi will continue doing their jobs till 2014 when a general election is scheduled.
Rahul, it is felt, cannot be home minister as it is a thankless job where result-oriented success is almost impossible in view of the ground realities in the country.
He cannot assume the role of finance minister as he does not have the knack for that job.
If Rahul is appointed rural development minister he may be able to lift his pro-poor image, but it will not make him eligible to join the elite powerful groups within the government like the Cabinet Committee on Security and Cabinet Committee on Political Affairs.
Hence, the best possible portfolio for Rahul is defence where success and failure are a collective affair in peace time.
Rasheed Kidwai, author of 24, Akbar Road and a senior journalist, believes, "A bigger role for Rahul in the Congress party is unlikely because he is already general secretary. It is more likely that he will become Raksha Mantri."