There is no chance of the case against Devyani Khobaragade being dropped, but a plea deal is possible, which could avoid a jail term for the Indian diplomat, sources in the US government tell Rediff.com's George Joseph in New York.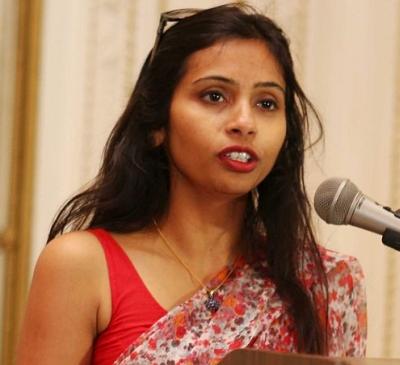 Fresh developments have surfaced in Indian diplomat Devyani Khobragade's case, which makes clear the roles played by different agencies and also how nationalistic sentiments in India have created a situation that will not quickly end the controversy.
Chances of the prosecutors dropping the case or the United States government apologising to India are remote. Various American agencies insist that Dr Khobragade enjoyed no diplomatic immunity when she was charged for alleged visa fraud and arrested in New York on December 12.
Contrary to public belief, it was not US Attorney for the Southern District of New York Preet Bharara's office which initiated the case against Dr Khobragade.
It was the US State Department which initiated the case, investigated it and later had Dr Khobragade arrested on the charge of making false declarations in a visa application for her maid, Sangeeta Richard.
The US Marshal's office took the diplomat in custody after her arrest and her prosecution will be handled by Bharara's office.
Dr Khobragade will be indicted on Monday, January 13. Under US law, a person arrested should be produced before a grand jury within 30 days.
Annoyed by the raging controversy in India and the Indian government's actions withdrawing the privileges granted to US diplomats, the US government has gathered information that sources claim reveals Dr Khobragade's intention not to follow US laws, even though she promised to abide by them when she hired Richard.
When Richard sought help from immigration attorneys in the US, government sources claim members of her family were allegedly threatened by the police in India.
This led the US embassy to fly Richard's husband, daughter and son to New York two days before Dr Khobragade was arrested, sources told this correspondent.
"If her family was harmed after Khobragade's arrest, what would have been the reaction of the people? one US official asked. "It was our duty to protect them."
US officials, speaking on condition that they would not be identified by name for this report, said the prosecution did not say that Dr Khobragade had promised $4,500 a month to Richard.
The prosecution's case was that Dr Khobragade signed an agreement with Richard to pay her the minimum US wage of $9.75 an hour. Her boarding and lodging and travel were not included.
Richard, the US officials say, was paid about $1.20 an hour and she worked 17 to 18 hours a day.
The Indian media, quoting the diplomat's defence attorney, said the prosecution had goofed up the case, which is not true according to the US government sources who spoke to this correspondent.
$4,500 represents nobody's income as Dr Khobragade has 11 properties and other sources of income other than the salary she earned from the Indian government. It only shows the ignorance of the person who filled the application. The prosecution's case does not rest on this amount, the sources insisted.
Signing a second contract with Richard, which promised to pay Rs 25,000 as a base salary, and Rs 5,000 for overtime, the sources claimed, reveals that Dr Khobragade had no intention of obeying US laws. The diplomat filed a case in the Delhi high court that only mentions the second contract, the sources added.
As per US laws, the salary has to be deposited in the domestic worker's American bank account, which was not done. This is disrespecting US laws, the government sources pointed out.
"How can a diplomat go to the US embassy and lie to get a visa for her domestic worker?" one source asked.
The personal attacks on Preet Bharara has also upset US law enforcement circles. The Jalandhar-born Bharara, right, who moved to the US with his parents when he was three, has been accused by sections of the Indian media of trying to be 'more white than the whites;' that he has political ambitions; and wants to 'please his white masters.'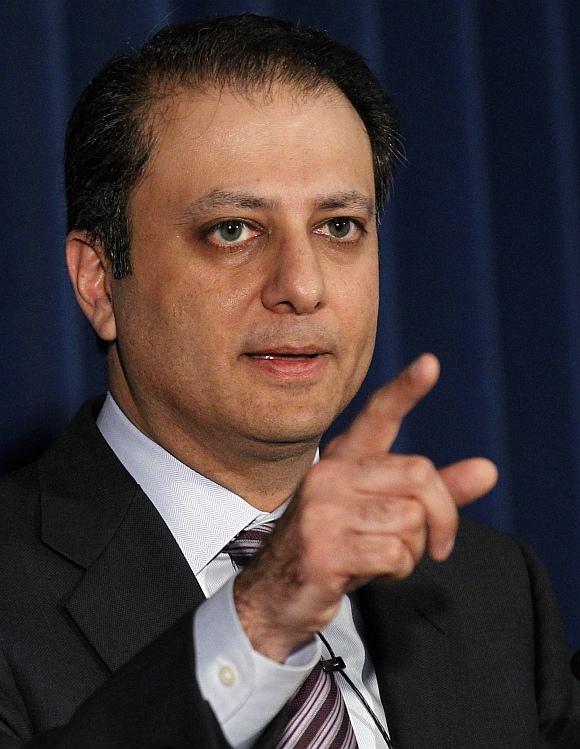 Bharara, who has prosecuted terrorists like the Times Square bomber and Viktor Bout, the notorious Russian arms dealer, is banned from entering Russia after he prosecuted Russians for alleged human rights violations sometime ago.
On December 5, Bharara, right, announced charges against 25 serving and former Russian diplomats for allegedly defrauding Medicaid, an American goverment-run healthcare programme, to obtain about $1.5 million in benefits over a decade.
Addressing the media after the arrest, Bharara said it was a case 'we would be prosecuting and making arrests in, but for immunity.' All the Russian diplomats had diplomatic immunity.
The dogged prosecutor was also demonised in Pakistan after the sentencing of scientist Aafia Siddiqui who was sentenced to 86 years in prison after she was convicted of grabbing a US soldier's M-4 assault rifle and trying to shoot a group of Federal Bureau of Investigation agents and US soldiers at an Afghan police compound in July 2008, a charge she consistently denied during her trial.
He has now received similar flak in India after Dr Khobragade's arrest.
"Criticism by the press or politicians does not affect the prosecution in the US," government officials told Rediff.com
"Everything is done according to the rules and handled professionally," they added. "Giving such considerations would be a disservice to justice."
The State Department, these sources added, has no authority to ask prosecutors to drop a case.
The investigation against Dr Khobragade, then India's deputy consul general in New York, the sources revealed, has been going on for some time. The State Department had informed the Government of India about the case via the Indian embassy in Washington, DC.
After her arrest, Dr Khobragade was formally transferred to India's Permanent Mission to the United Nations as a Counsellor.
India has since stated that she enjoyed diplomatic immunity even before her arrest, having being accredited to the Permanent Mission as an advisor in August 2013.
This was not brought to the attention of the American authorities till two weeks after her arrest, the US government sources said.
Since there is no possibility of the dismissal of the case against Dr Khobragade, a plea deal is feasible.
This involves a formal acknowledgement of guilt in exchange for a lesser penalty, in this case, possibly a fine and no jail time.
With a plea deal, the US government sources felt, Dr Khobragade could avoid a jail term, and pay a fine.
The case will end there, the sources said, unsure if India's ministry of external affairs, which has taken a strident stand on the issue, will agree to such an action.
If Dr Khobragade is granted diplomatic immunity by the State Department -- the Indians have sought this in view of her new position at the Permanent Mission -- and she returns to India, the case against her will continue, the sources added.
If she returns to the US -- her husband is an Indian-American professor -- without immunity, she will be in trouble.
Image: Dr Devyani Khobragade at an event at India's consulate general in New York earlier this year. Photographs: Mohammed Jaffer/SnapsIndia