'How can Devyani sitting in New York and I in Mumbai arm-twist the maid's family?' Uttam Khobragade challenges Preet Bharara's version of events in this interview to Rediff.com's Prasanna D Zore.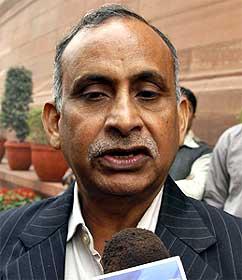 Uttam Khobragade, a retired IAS officer, have been actively lobbying authorities in New Delhi ever since his daughter, Indian diplomat Dr Devyani Khobragade, was arrested on a New York street for not paying her Indian domestic help minimum wages.
He claims that Sangeeta Richard, the domestic help who complained to the authorities in New York, absconded after working at his daughter's home for a few months, and was trying to extort money from the Khobragade family. He alleges that she is part of a conspiracy to defame his daughter and India.
He spoke to Rediff.com's Prasanna D Zore about the controversy.
Was Sangeeta Richard 'planted' in your home?
Yes, she was planted. The whole circumstances indicate that she was planted. Let me explain.
She approached us for the job. She went there. She praised my daughter and even me for our good conduct as employers.
' Aap ke jaise log duniya main bahut kum hai, uncle (There are very few good people like you in this world, uncle),' she said this to me on the phone.
But after going there she tried to extort money from us. Then the US government gave her protection.
They refused to issue a non-bailable warrant against her when we complained to the US authorities that Richard is asking us for $10,000 (about Rs 620,000) and immigration help.
They also did not help us to serve the (Delhi) high court notice on her.
Then they (the US authorities) removed (took away) her (Richard's) entire family from India to US issuing a special visa to them, which is even very difficult for me to get.
After all these things, in order to make a case for her Green Card, they filed this false complaint against my daughter and arrested her.
So this is a conspiracy against your daughter?
The Government of India was fully convinced, when they saw the (investigation) papers; the depositions of the prosecutor and the investigating officer are self-contradictory.
Even if you read the depositions carefully, you will find that the entire case is built on faulty premises.
The government is fully convinced that this is all a conspiracy to frame Devyani.
Now, what (Prosecutor Preet) Bharara is saying that they (the US authorities) evacuated her (Richard's) family from Delhi to give them protection.
This means (what Bharara is trying to convey is) that the Government of India is not protecting its citizens and so he is undertaking the job of protecting Indian citizens.
He is taking on the sovereign responsibilities of the Indian government.
He (Bharara) is acting as if he is the prime minister of India.
Are you alleging that Preet Bharara sitting in New York is giving protection to Richard and her family?
He said that sitting in New York, he wants to give protection to Richard's family in India. So, he is taking up the sovereign responsibilities of the Indian government.
If this is a conspiracy, as you are alleging, then who is behind this conspiracy and what is the motive behind this conspiracy?
The circumstances clearly indicate that this is a conspiracy. I don't know who is behind this conspiracy.
What according to you is the motive behind Preet Bharara and his office in framing Devyani Khobragade in this case?
See, from the last two to three years, there is tension between India and the US State Department regarding visa issues and the condition of the maid (Richard).
The Government of India's consistent stand is that this is our internal matter and you have no business to intervene in this matter which we have asserted very forcefully.
To retaliate against this forceful assertion, a conspiracy was hatched (against my daughter).
This has been happening for the last three years.
Yes, yes. And we are the biggest victim of that.
You are the biggest victim of what?
We are the victims of the tension between the two nations (India and the US).
When was the case filed in Mumbai against Richard? Who filed it? Why in Mumbai?
When we found out that she (Richard) ran away and was trying to extort money from us -- that also we were ready to give.
But she was giving us threatening calls, and asking us to give her immigration assistance.
In fact, we told her whatever money she is asking, we would give, but she should go back to India.
What kind of money did she ask from you?
She asked for two things: $10,000 and immigration assistance, which was important. We were ready to pay her the money.
What kind of immigration assistance was Richard asking for?
So that she can further frame us by saying that we were guilty of human trafficking and she could then get a Green Card by gaining sympathy.
She clearly said she did not want to go to India because 'Ek baar agar India gayi toh wapas thode hi aa sakte hai US main (If I go to India there is no way I will get a chance to return to the US).'
Typically, her plan was to set up Devyani in a human trafficking case, become a hero there and get a Green Card.
If she did this, why would the US government give her a Green Card?
Her method is this: Make false allegations, make charges of ill-treatment and human trafficking against a diplomat.
She thought that she could make the US authorities trust her case and take the moral responsibility of protecting citizens of other countries.
And then get a Green Card based on the sympathies she would get from the US people.
Did she turn against your daughter for not providing her immigration assistance?
Yes. Then she went incognito (when Richard left Dr Devyani Khobragade's home in New York on June 23) when we refused to offer any immigration assistance to her.
When she went incognito, we filed cases against her. We requested the court to locate her and bring her back.
Which court?
The Indian court.
Why was this case filed in India when she had gone missing in the US?
The missing case was filed against her in New York also.
In India, a case was filed against her for cheating us.
When she had formally agreed to work for us for three years -- she left us in between -- so that cheating case was filed in India.
The Delhi court even issued a non-bailable warrant against her in this case.
Preet Bharara's office says Devyani 'was not, as has been incorrectly reported, arrested in front of her children. The agents arrested her in the most discreet way possible, and unlike most defendants, she was not then handcuffed or restrained.'
What are the details of her arrest?
Why don't you ask him where she was arrested then?
Was she not arrested on the road? Schoolchildren were playing there, including my grand-daughter?
You ask him if Devyani was arrested at her home or office?
According to you, was she handcuffed and restrained, cavity searched and swabs taken for DNA testing?
Yes. Now he (Preet Bharara) is trying to cover up. He is spreading falsehoods after seeing the hue and cry in India.
To cover up the treatment he gave Devyani he is making blatantly false statements.
What is he also saying is he took Sangeeta's husband from India because he wanted to protect him. Which means Preet Bharara will protect an Indian citizen, staying in India?
This is an attack on India's sovereignty. The entire country must stand up to him.
This is like war against India.
But was your daughter handcuffed, and restrained, cavity searched and DNA tested?
Why don't you go and take a look at the report filed in their police station? Their police station has the record of handcuffing, stripping and searching Devyani.
Does the government or Indian embassy officials have a copy of that report?
They are not giving it. They are hiding it now. They are trying to cover up after seeing that the entire nation has risen against what they have done and making false statements.
Richard's family was threatened in India according to Preet Bharara's statement. Is that true?
Let him come to India and find out in which police station they were held. He is lying blatantly.
If Richard is using a legal loophole -- as your daughter and the government allege -- to arm-twist your daughter, can the same be not said in the case filed against Richard by Dr Khobragade in Mumbai?
How can Devyani sitting in New York and I in Mumbai arm-twist the Richard family? How is it possible?
Former UP chief minister Mayawati has made a statement that the Indian government reacted late in the case because your daughter is a Dalit.
Mayawatiji is a responsible and experienced leader. She could have said so based on inputs she must have got.
She has been the chief minister of Uttar Pradesh thrice. She is a big Dalit and national leader. She is a responsible leader. It will not be proper to make any comments on her statement.
Do you harbour political ambitions? Are you in touch with Republican Party of India leader Ramdas Athavale for a Lok Sabha ticket?
I didn't go to him. He invited me to join his party. He also sent a letter to me, but I am yet to take a call on his.
I have political ambitions and I am going to stand for elections this time around.
From which constituency?
You will come to know about it at an appropriate time.
It all depends upon which party gives me a ticket to fight elections. That party will decide about the constituency.
Photograph: Uttam Khobragade outside Parliament.