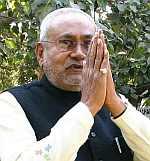 Apparently suspicious of its ally Janata Dal-United, the Bihar Bharatiya Janata Party on Tuesday sprang a surprise saying it is readying itself to contest all 40 Lok Sabha seats in the state in the 2014 elections.
BJP state chief C P Thakur, however, expressed confidence that Janata Dal-United will not walk out of the alliance, which runs a coalition government in the state.
"We are preparing to contest all the 40 Lok Sabha seats from Bihar in the next general elections after taking into account all possibilities, including the JD-U deciding to sever ties with us at some stage," Thakur told PTI in Patna.
He, however, emphasised that the JD-U breaking away from its alliance with the BJP was 'just a possibility' and he was sure that the ally in Bihar would not break away. In the last elections, JDU had won 20 seats and BJP 12 under a tie up.
Relations between the BJP and the JD-U have witnessed strains in last couple of months after Chief Minister Nitish Kumar said that it would not take a minute for his party to
break ties with its ally if it projected Gujarat Chief Minister Narendra Modi as its prime ministerial candidate.
The leaders of the two alliance partners had engaged in a war of words casting aspersions on each other before the senior leadership of the two parties called for truce and gagged their leaders from making public statements against each other.
Explaining the rationale behind its strategy, Thakur said that if the alliance was to remain in tact there could be last minute exchange of parliamentary constituencies between the two parties.
"We don't want to lag behind in preparations for a contest from any parliamentary seat," he said.
Thakur, however, refused to divulge the details of presentation he had made at the BJP's national executive at Surajkund. "It will not be fair for me to go public with whatever I said at the party forum," he said.
Another senior BJP leader and Deputy Chief Minister Sushil Kumar Modi too spoke on the same lines. "By remaining organisationally strong in all assembly and parliamentary constituencies, we can help ally JD-U too by putting behind our support to its candidates," he said.