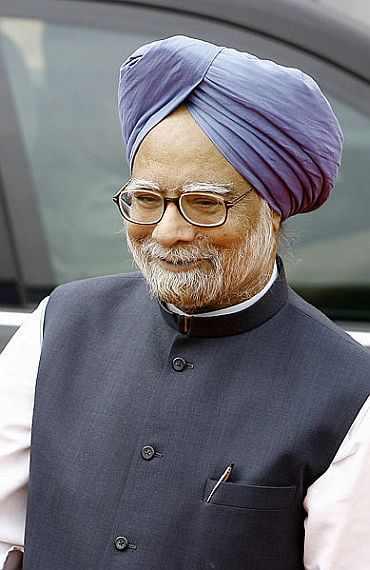 Alleging that Prime Minister Manmohan Singh [
Images
] has pushed the country's economy back to 1991 era of economic crisis, the Bharatiya Janata Party [
Images
] on Tuesday hit out at the Congress-led United Progressive Alliance [
Images
] government at the Centre for allowing Foreign Direct Investment in multi-brand retail.
"The prime minister is saying that the 1991 situation is coming back...Who is responsible for this? The prime minister? You have been in power since last eight years. It's because of your mismanagement of economy," BJP leader Venkaiah Naidu told the media in Mumbai [
Images
].
He said the current situation of the economy was the result of the government's wrong priorities and overall policy paralysis. "From a robust economy, resilient economy you have turned it into a roasted economy," Venkaiah said.
Venkaiah was referring to the serious economic crisis of 1990-1991 when the country's foreign exchange reserves stood at mere $1.2 billion in January 1991. India [
Images
] had to airlift its gold reserves to pledge it with the International Monetary Fund for a loan.
The former BJP president said senior Congress leader Priya Ranjan Dasmunsi was against allowing FDI in retail.  
Quoting Dasmunshi's letter dated December 16, 2002, Venkaiah said, "Multinational retailers are continuously putting pressure on the government to take anti-national decision of allowing FDI in retail trade".
The BJP leader said even Manmohan Singh, who was the Leader of Opposition in Rajya Sabha in 2002, had opposed FDI in multi-brand retail on the ground that it would destroy employment.
"We should not permit Foreign Direct Investment in retail trade. India does not require this kind of reforms, which would, rather than creating employment, destroy employment," Venkaiah said citing Dr Singh's letter to the Federation of Association of Maharashtra [ Images ].
Alleging that the Congress failed to follow coalition dharma, Venkaiah said, "You don't know how to run the government. You never followed the coalition-dharma. That is why the Trinamool Congress [ Images ] Party pulled out of the government."
Venkaiah said the Congress "betrayed" the Parliament by deciding to open the multi-brand retail to foreign investment.
"You (Congress) never consulted your alliance partners. You always insulted them... No consult, only insult. That is the policy of the UPA," he said.
On possibility of snap polls, the BJP leader said, "We don't know for how long this government will survive."
Launching a veiled attack on the DMK and the Samajwadi Party, Venkaiah said, "Some parties are having 'kushti' (wrestling) in Chennai and 'dosti' (friendship) in Delhi [ Images ]... Cooperation in Delhi and operation in Lucknow [ Images ]. There are parties adopting such methods."
He said the saffron party will launch 'Congress hatao, desh bachao' campaign from October 10 to November 11 at tehsil level as the government's decision to allow FDI poses a serious threat to the livelihood of almost two crore traders and their dependents.
"Before the winter session, we will go on a mass hunger strike at the district level. We will also gherao the government," Venkaiah added.