'We will do it either by removing all the Constitutional hurdles or by mutual consent.'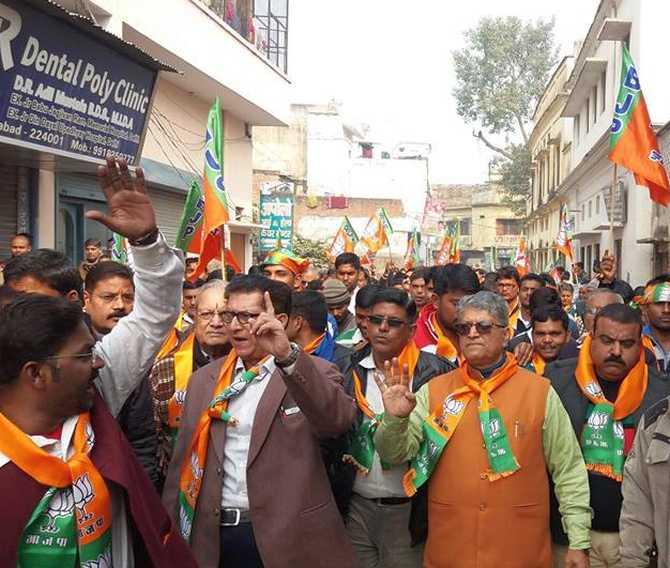 IMAGE: Ayodhya MLA Ved Prakash Gupta, in the orange kurta, campaigns in Ayodhya; Photograph: kind courtesy: Ved Prakash Gupta/Facebook
Tareef teri nikli hai dil se, aayi hai lab pe lekar qawwali... Shirdi wale Sai Baba, aaya hai tere dar pe sawali... This memorable song from Amar Akbar Anthony greets you when you call Ved Prakash Gupta, the Bharatiya Janata Party's newly elected MLA from Ayodhya.
Gupta won the Ayodhya assembly seat by a handsome margin of 50,440 votes defeating his nearest rival, then Uttar Pradesh minister of state for forest Pawan Pandey of the Samajwadi Party.
So sweeping was Gupta's victory that he polled almost 49 per cent of the 217,488 votes (if you include the 1,544 votes recorded in the NOTA (none of the above) category).
Gupta, a first time member of the UP legislative assembly, discusses his victory and the construction of a Ram Mandir in Ayodhya with Rediff.com's Prasanna D Zore.
Who do you credit your victory to?
The welfare policies of the honourable Prime Minister Narendra Modiji and the blessings of our wonderful people has helped me win this seat from Prabhu Shri Ram's nagari (Lord Ram's birthplace).
Now that the BJP has a huge mandate in UP and there is a BJP government at the Centre, do you feel a Ram Mandir should be built in Ayodhya by 2022?
Not just the people of India, but the people belonging to the Hindu community across India worship Prabhu Ram. It is a matter of our belief that a Ram Mandir will be definitely built.
We will do it either by removing all the Constitutional hurdles or by mutual consent (of the Muslims and all parties involved in the dispute).
But before that, since the great people of Ayodhya and Lord Ram has given us their blessings, we will work for the development, welfare, beautification and cleanliness of Ayodhya.
What plans do you have for Ayodhya's development?
Ayodhya is one of the most sacred pilgrimages of Hindus, so the most important thing will be Ayodhya's development as a tourist attraction.
This will help increase not only earnings of the temples in the town, but also improve the livelihood and employment opportunities for the people on the principle of sabka saath, sabka vikas (Narendra Modi's clarion call since 2014 when he campaigned for the Lok Sabha elections).
The other grand plan is to develop Ayodhya as a religious-spiritual town so that we can bring back Ayodhya's lost grandeur and prestige.
We will develop all the dilapidated temples and places of importance that have their origin in the time of Prabhu Ram.
We would like the pilgrims who come to Ayodhya to go back with beautiful memories and spread them when they go back home.
Would you agree with the view that Muslims voted in significant numbers for the BJP and that helped, to some extent, the party win an overwhelming 312 out of 403 seats?
Modiji and our party raised the issue of triple talaq during the elections.
That issue started a debate in the country and that has helped many Muslim women believe in us and our sincerity hoping that we will help them stop this malpractice in their society.
Muslim women have reposed their faith in Modiji's leadership.
What about Muslim men? Didn't they vote for Modi?
Yes. The Muslim community has seen Modiji's ground work. Not just Muslim women, every section of Muslims is impressed by Modiji's development agenda.
How much of this impression contributed to the BJP's victory in this election is difficult to say, but I can say confidently that even Muslims have blessed us for our good work and issues the BJP has been raising.
Modiji's nara (clarion call) is sabka sath, sabka vikas. We do not discriminate against anybody, and gradually everybody will realise our sincerity.
On what issues did you fight the election in Ayodhya?
I have been president of the regional traders association for the last 25 years. I am socially connected with the people in my constituency.
Because of my image as a clean, non-corrupt, person, the people of Ayodhya were rooting for my candidature.
Once my party decided to field me from here the people fulfilled their long cherished desire to have me in the UP assembly.
I have never worked for my personal or family's benefit.
My business is looked after by my children. I spent my time doing social work among the people.
I never joined politics for personal gratification or greed.
I believe in what the BJP stands for and will continue to work to spread the party's message.
That is what impressed my voters and Ayodhya's people the most.
Also, the two-and-a-half year of Modiji's rule and the development he ushered through his policies left no doubt in the mind of people that only the BJP can help the state get rid of its backwardness, poverty, corruption and goonda raj.
In these elections, the BJP got the huge support of voters even from rural areas where we were considerably weaker.
The BJP's Sankalp Patra helped us bridge the gap with rural voters.
All these factors combined together to help me win the Ayodhya seat.
Do you see yourself getting a ministry given that you come from Ayodhya and you also defeated a minister?
This is a decision best left to the national leadership of our party. I have nothing to say in this matter.
If the national leadership thinks that giving me a cabinet berth will help the development of Ayodhya, then I may get an opportunity.
But even if I don't get it (a ministerial berth), then too I will continue with my work for Ayodhya and the party.
I have been elected by the people to work for Ayodhya's development and I will not disappoint them.
Who should be UP chief minister?
The way the people of Uttar Pradesh showered their blessings and faith in the BJP and honourable prime minister by giving us 323 seats, I think our honourable party president Amit Shah sahab and Narendra Modi sahab will take a very considered and well-thought decision to give this state a chief minister capable of creating a clean image for the state.
Would you and the people of UP welcome Rajnath Singh back as chief minister?
We will welcome any person who is given an opportunity to serve the state by the honourable Narendra Modiji and Amit Shahji.
MUST READ features in the RELATED LINKS below...