Rajinikanth will win the elections whenever they are held, predicts A Ganesh Nadar.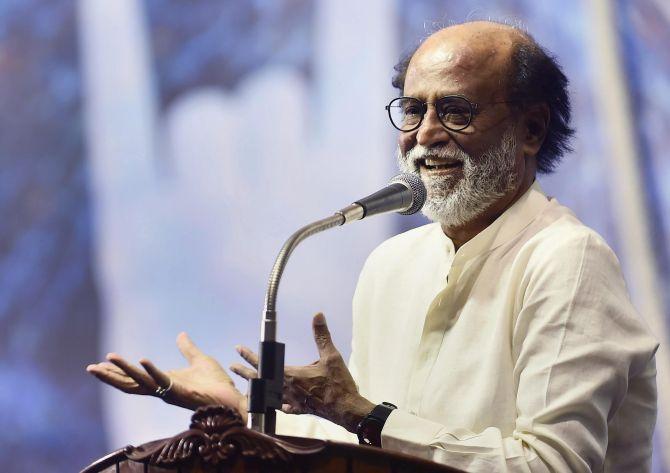 IMAGE: Tamil superstar Rajinikanth addresses his fans in Chennai, December 31, 2017. Photograph: R Senthil Kumar/PTI Photo
If things go as per schedule, Rajinikanth (born December 12, 1950) will face his first election in May 2021 at the age of 70.
His long pending decision -- which has been years in the coming if one considers his politics-laden film dialogues from 20 years ago -- has been hastened by the political vacuum left behind by All India Anna Dravida Munnetra Kazhagam supremo J Jayalalithaa's death, DMK leader M Karunanidhi's retirement and AIADMK rebel T T V Dinakaran's stupendous by-election victory on December 24.
Rajinikanth's foray into Tamil cinema some four decades ago was as a successful villain, before he transformed into a hero and metamorphosed into a superstar. His biggest hits were movies in which he played a gangster, Basha (1995) and Kabaali (2016) among others.
Ironically, one of his biggest flops was Baba in which he is shown first supporting a politician and then becoming one himself. The scene when he decides to enter politics is the climax in that movie.
In reel life the theme may have flopped, but will he succeed in real life?
Yes, he will. Rajinikanth will win the elections.
But why will Rajinikanth win, you ask.
First, Tamil Nadu has a tradition of voting for movie stars. MGR -- Marudur Gopalan Ramachandran -- and Jayalalithaa were huge stars before entering politics.
Karunanidhi was one of the most powerful dialogue writers in Tamil cinema. He also had the acumen of a Chanakya which, on available evidence thus far, he did not pass on to his younger son M K Stalin.
Women, that major votebank of MGR, will vote for Rajinikanth because apart from the respectful distance he maintained from his heroines he always had a mother figure in his movies who he worshiped. This will go down very well with elderly women and younger lady voters alike.
Plus in his armory he has a son-in-law in Dhanush who has a large following among the youth.
And among his friends are all the superstars of India. This will go in his favour when elections are announced and the stars make guest appearances on his behalf.
Rajinikanth has registered and unregistered fan associations, a phenomenon peculiar to Tamil Nadu, and he has announced that both must unite now.
The fan clubs, or Rasigar Mandrams, are a force multiplier. Once they come together, they will be turned into political party units much like the way MGR did when he parted ways with the DMK in 1972.
That's how the superstar hopes to enter the electoral arena with a functioning party and his fans as office-bearers three years hence.
Rajinikanth has said he will not contest the panchayat elections, but his fans will not lose the opportunity to showcase their strength in those polls.
Panchayat elections are not held on party lines and his fans will enter the fray. If they are successful, Rajinikanth will endorse them and if they fail to make a mark he will take it as a learning lesson.
With T T V Dinakaran snapping at its heels, the number of months the Edappadi K Palaniswami-O Panneerselvam government will last is anybody's guess. Much will depend on whether the courts will uphold the dismissal of 18 AIADMK MLAs by the speaker.
If it does and by-elections are held for those 18 seats, their outcome will determine whether the EKP-OPS government will survive the remaining three years or not.
Rajinikanth's formal entry into politics could well be much earlier than 2021.