'I hope that by seeing us in such huge numbers the government will get scared and agree to our demands.'
Rediff.com's Syed Firdaus Ashraf reports from Azad Maidan.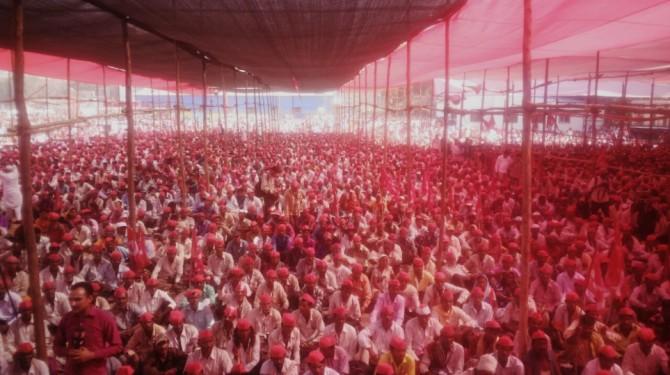 IMAGE: Thousands of farmers gathered at Mumbai's Azad Maidan to press for their demands. Photograph: Kind courtesy All India Kisan Sabha/Twitter
Sanjay Namdeo Navsare, a farmer from Sakur taluka, Nanded, has been taking bank loans for the last 15 years to till his land.
Each time he earned a profit on his produce he returned the money to the banks with interest, getting a fresh loan for a new crop.
Only twice in the last 15 years did poor rainfall affect his produce when he could not repay the loan.
Luckily for Navsare, the then Congress-Nationalist Congress Party government in Maharashtra waived off farmers' loan, and Navsare was relieved to escape the debt trap that many other farmers could not.
Navsare has now come to Mumbai's Azad Maidan along with thousands of farmers, hoping that that Devendra Fadnavis's state government will write off farmers' loans like the Congress-NCP government did.
"I took a loan of Rs 80,000 in October 2016 from Grameen Bank. I was supposed to return it in October 2017 with six percent interest, but unfortunately, due to bad rainfall, I could not earn the money."
"I earned only Rs 20,000 from my produce. I am worried how to return the money to the bank."
"I have joined this morcha so that my loan can be waived off by the BJP government," he told Rediff.com
Navsare walked for 200 kilometres along with 30,000 other farmers and Adivasis to reach Mumbai.
"I broke my slippers, I stitched it, but again it broke. After that, I started walking barefoot. This morcha is like life and death for me. I did not give up hope and kept walking till we reached Mumbai," he said.
Navsare, left, sows cotton or soyabean at his farm. He has two children and a wife who are dependent on him, and he is worried what will happen when the bank staffers come to his door and ask for repayment of the loan.
"If I am not able to repay the loan, this year Grameen Bank will not give me a loan to farm, so I am hoping the government will waive our loan."
"The Congress-NCP government gave us a loan waiver twice, and I fail to understand why the BJP government is not giving us one. When that government could, why can't the BJP do so?" asked Navsare.
Jijabai Narayan Gaikwad from Watlur village near Nashik is worried for a different reason.
She has been farming on a forest plot for more than 50 years and till date the plot has not been transferred in her name.
At the age of 65, she has walked 200 kilometres to Mumbai in the hope the government agrees to the demand.
"I sow groundnuts and earn Rs 25,000 a year from my farm land, but now, before I die, I want the land records to be in my name. Why cannot the government do that?" she asked.
"For generations we have been farming on forest land and till date we have not got our names on our land. I want that to be done and therefore I have joined this morcha, Jijabai added.
In 2006, the then United Progressive Alliance government enacted the Forest Act granting tribals rights to their land, but like Jijabai, numerous Adivasis living on forest land are yet to get the land transferred in their names.
"When there are no good rains, I go to the city with my children to do temporary jobs. But I don't want to go to the city. I like to cultivate our land but the government is not putting my name on the land on which four generations of my family have farmed," Jijabai said.
Dandraj Ambu Thakre's story is similar.
A resident of Kalwan taluka, Khed near Pune, Thakre, left, has been farming on forest land for years, but his name has not been added to the land records.
"I farm on two acres of forest land. I sow maize and earn Rs 30,000 a year. I somehow survive with that money, but if the rains are not good then I have to move to the city for temporary jobs," Thakre, who has two sons and two daughters, said.
"I am hoping the BJP government will listen to our demands. I want the land to be transferred in my name."
"For the last 10 years we have only got false assurances from politicians. I am tired of the false assurances by different governments. Now I want concrete results. I have therefore come to Azad Maidan to press for my demand."
"I hope that by seeing us in such huge numbers the government will get scared and agree to our demands."