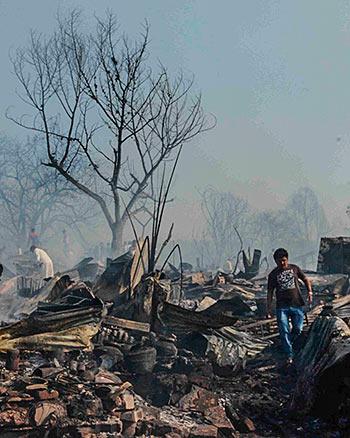 The storm had come. The storm had passed.
Lives lay shattered, but hope is what matters and hope is what they have.
Damu Nagar -- a shanty colony built around a hillock in Mumbai's northern suburb of Kandivali, abutting the Sanjay Gandhi National Park, was engulfed in an inferno Monday, December 7, that left more than 2,000 homes gutted and thousands homeless.
Residents displayed exemplary courage, camaraderie and chutzpah as they grappled with ways and means to overcome their personal catastrophes when Rediff.com visited them.
Text, photographs and videos: Prasanna D Zore and Reuben NV
This is the story of these brave women, men, children and youth, who while being angry and agitated at the indifference of the state government are nevertheless making a brilliant effort to rebuild their shattered lives with the help of good Samaritans from plush residential complexes, who have flooded them with relief material, food, water and clothing.
But shelter is what these residents desperately need as the nights atop the hilltop are getting chilly and the morning sun severe.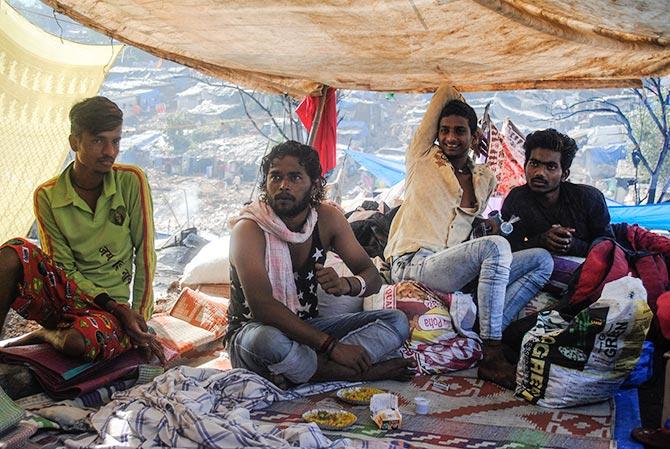 IMAGE: Vilas Kamble and his friends have their breakfast, puffed rice, provided by several NGOs who are working among the people of Damu Nagar and providing them succour
"Bhai tension lega na, toh mar jayega aadmi (Tension can only kill you, not help find any solution)," says Vikas Kamble a stockily built young man in his early 20s when these correspondents praise his spirit of camaraderie.
A few minutes before, Vikas had pulled a fast one on us and almost succeeded in unnerving us.
"How dare you step into my house with your shoes on?" he rebukes us, making us profusely apologise to him and his friends. Seeing our expressions he gives up his pretense and bursts into laughter.
That's chutzpah.
Vikas, an autorickshaw driver, was ferrying passengers when the fire broke out around 12.30 pm on December 7 inside a house that is almost in the middle of this hillock that edges the Sanjay Gandhi National Park upwards to its east and tall skyscrapers developed by marquee names in Mumbai's construction business, downhill on its western side.
Though he immediately rushed after a friend broke the news on him, it did not matter much.
As the fire spread quickly under the blazing December sun (it's winter only at nights; the days are still hot in Mumbai) devilishly abetted by houses made of highly inflammable plastic and the more dangerous and explosive LPG cylinders, some 10,000 residents were left with no choice but to abandon their homes and flee with whatever belongings they could muster, with whatever wits they could gather.
Those located lower on the down slope scooted towards the ground; those uphill scrambled towards the safety of the hills above.
It was a sort of a chain reaction. As more houses began to be consumed by the fire and as this fire made contact with LPG cylinders inside those houses, there were a series of explosions scattering fire onto adjoining areas making Damu Nagar a real inferno that afternoon.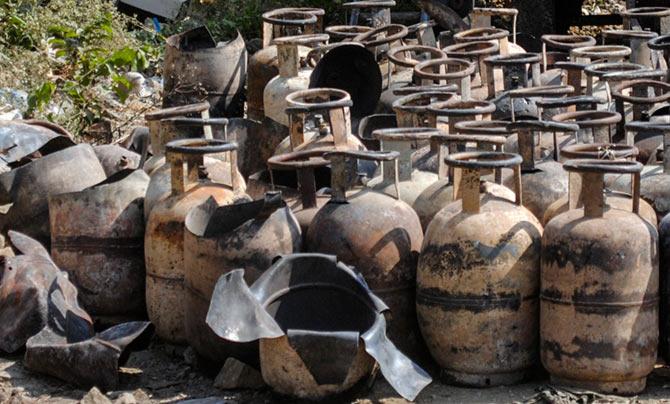 IMAGE: LPG cylinders caused the severest damage when a fire broke out at Damu Nagar, December 7. These exploded cylinders were kept on a small ground even as the fire brigade stood guard over them after angry residents threatened workers who had come from Hindustan Petroleum and Indian Oil Corporation dealers to take them away. Residents demanded compensation upwards of Rs 200,000 to recover the losses they suffered.
"Every house has a gas cylinder today. It spread like a chain reaction with every exploding cylinder spreading the incendiary material over a distance," says Dilip Dharma Ingle, who having the advantage of being on the higher side of the hill made efforts with others in the neighbourhood to scotch the spread of fire.
***
As Vikas narrated how he found out about the fire, another resident passes by his burnt down house, or whatever remained of it. Unlike Vikas he is in no mood for niceties in these times of tragedy. He is angry. Angry, not just with the state administration that had announced a shockingly paltry compensation of Rs 3,800 per gutted house, but also at the media for not articulating their miseries adequately.
"You people are not reporting properly," he says angrily when told that we will record his view correctly. "Sab c**t*y* banana ke dhande hai (You all are taking us for fools)," he abuses us and moves ahead to dispose the charred remains of his house near the top of the hill.
That's anger.
And there were so many angry people as we reached the top of the hill and made our way down after a couple of hours. As many angry tones as the people who spoke to Rediff.com. The underlying narrative remained the same: Nobody is happy with the compensation being doled out and deeply hurt by the insensitivity of political leaders who had not shown up to express their solidarity or offer solace to these needy people.
"We don't need their Rs 3,800. We need the government to rebuild our homes," says Reshma Imtiaz Syed, who was away when her home met a fiery end. Both she and her husband were away at work when the fire broke out. Their children, though, were home.
"We came to know about this fire only after it had spread. By the time we reached, it was all gone. All our children had gone missing in the melee. I found one of my kids at 8 in the evening. We need quick relief; at least a roof over our heads and protection around us from cold, heat and dust," beseeches Reshma.
"They (local and national political leaders) come to us only when they need votes. When we need them they are always found wanting. We don't trust anybody so there is no point even if they come here," she adds in exasperation knowing for fact that the road ahead is difficult for her and her neighbours.
***
Despite the odds stacked against these hapless victims the people of Damu Nagar soldier on as help pours in from unexpected quarters.
There are heaps of used clothes lying all over the hill, food packets being distributed, NGOs giving bamboos and tarpaulin sheets to the people to rebuild their homes, madarsa workers issuing receipts in lieu of which rations could be collected from a madarsa down hill, RSS workers along with college students providing succour to the needy.
That's camaraderie.
Right from the ground level where government officials request people to maintain calm and collect their cheques of Rs 3,800 per house till up to the top of the hill such scenes play themselves out in front of our eyes as people profusely praise these good Samaritans and equally profusely express their anger at the apathy of the state/city administration.
Zamir Mujawar, who had come from a nearby madarsa, was issuing small paper chits to the victims. There was a scramble around Zamir when they realised that these paper chits were worth their weight in tarpaulin, utensils, bamboos, water and biscuits.
"Those with these chits can go down to the madarsa and get relief material in a systematic manner by showing these chits," he informs as he hands out these from a small booklet in his hand.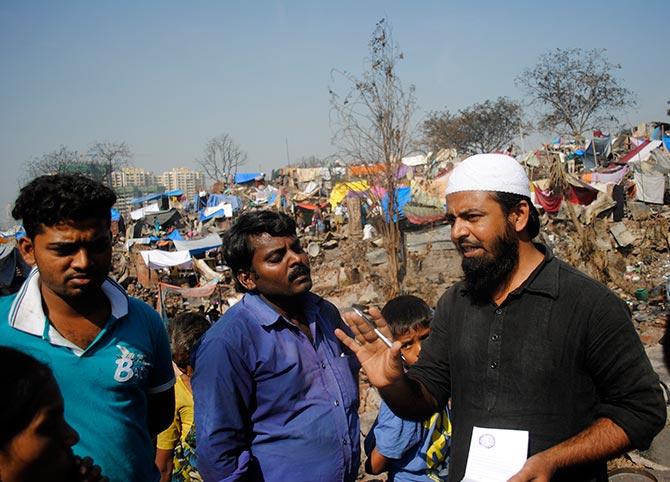 IMAGE: Zamir Mujawar from a local madarsa issuing small chits of paper to the victims.
Zamir and his madarsa have been collecting relief material from the suburbs of Jogeshwari, Andheri and Mira Road since the day of the tragedy.
Zamir, who is also a resident of a nearby colony, says, "I haven't lost anything in this fire, but these people have. We are trying to help them as fellow human beings."
When Zamir met us he had already distributed 500 paper chits in the last three days.
The RSS worker, Rajesh Kulkarni, who with two college students under his supervision, who we met after climbing down a bit from where we met Zamir, too was recording the names of victims and their phone numbers who needed material to rebuild their homes.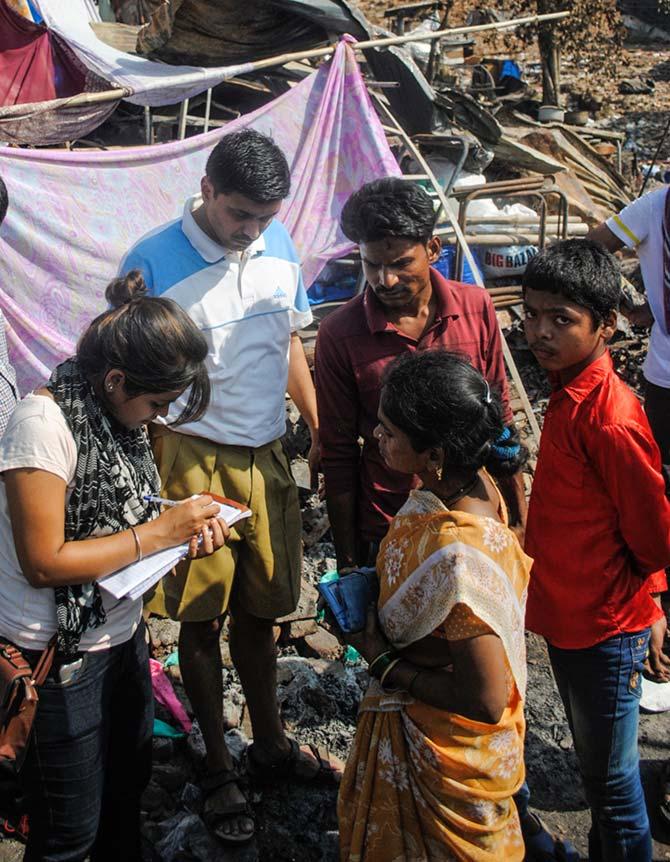 IMAGE: The RSS worker, Rajesh Kulkarni assisting college students help streamline the flow of relief material to the victims.
While Rajesh Kulkarni was busy helping a group of ten with their contact details the college students told us that these people too would get bamboos and tarpaulin to rebuild their shattered world.
Further downhill we meet Laxman Sonawane of the Sanmat Parivar, an NGO that works for relief and rehabilitation of such affected people.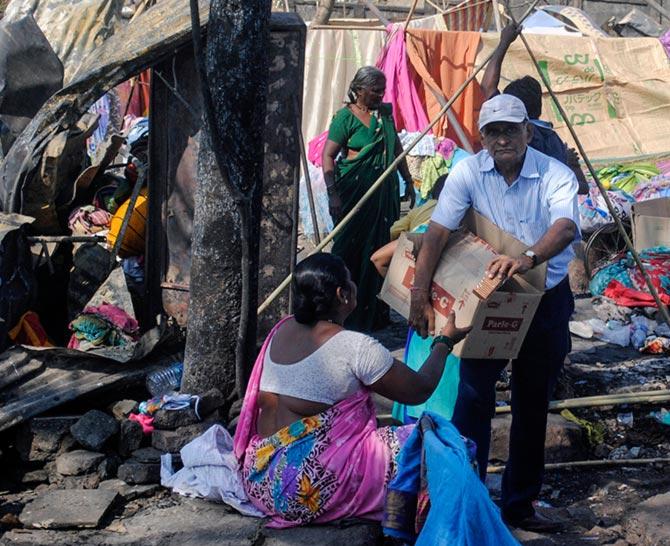 IMAGE: An NGO worker distributes relief material to the victims.
"Our first task is to build shelters for these people, so that they don't have to sleep under the sky at night in chilling cold," he says.
Sonawane and his team of 10 were helping the victims build simple shelters supported by tarpaulin and bamboos. "Our target is to build 100 such shelters. Now let us see how much work we can complete today. We have just started and built six shelters yet," he says.
The Sanmat Parivar team had conducted a survey of the victims and based on their findings decided to target what the people wanted. "After our survey we realised that people here needed immediate shelter to protect themselves from the sun, wind and cold. The people told us they have been receiving utensils and food, but need shelter."
***
As the fire began its secular spread, swallowing everything that came in its way and turned it into cinder, charcoal and ash, it was Dilip Dharma Ingle who knew he had to act fast to prevent further destruction.
Standing at a vantage point near the top of the hill Dilip realised that the exploding cylinders were spewing fire balls randomly leading to a fiery chain. He also knew that if one of those fireballs were to find an eastward trajectory, a vast stretch of shanties abutting the hill too would be reduced to ash.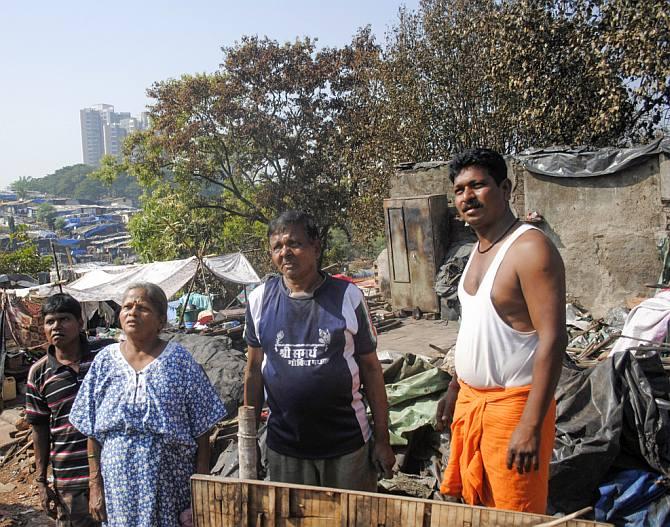 IMAGE: Dilip Dharma Ingle (in vest) showed exemplary courage as he led a team of volunteers to move the gas cylinders out of a dozen houses preventing further spread of fire. Sadly, like vultures feeding off carcasses, robbers stole those cylinders the same night.
Quickly ushering his neighbours out of their homes he suggested that they all bring out their cylinders and dump it on the hill far away from the spread of those flying fireballs. This would, he believed, at least not add to the already smouldering fire, even if a fireball were to land up near his house.
"It is because we came acted swiftly and removed cylinders from these houses and threw them in the jungle behind that the fire didn't spread further," Dilip says.
"The fire was spreading fast and we needed to take prompt action to prevent it from spreading further. I saw a few houses going up in the air after cylinders inside them exploded. I quickly got a few people to help me and removed all the cylinders from houses that were yet to be consumed by flames and threw them away in the jungle," he says.
While some fireballs did reach close to Dilip's house, they were prepared to face the onslaught and quickly doused a small fire with water. The house above Dilip's was the last one to be mildly singed.
That's courage under fire. Literally!
***
Alas, there were two deaths. The hungry fire swallowed Prahlad Pundlik Kharat, 45, and Nanebai Waman Hiwale, 70.
Sunita Bhausaheb Nikalje says her father Prahlad, who had been a resident of Damu Nagar since 1990, died because that was his fate. Sunita and her younger brother Suresh Kharat were away at work when the fire broke out. Their mother, who had had an operation a few weeks ago, had gone down to a municipal hospital for a check up and collect medicines.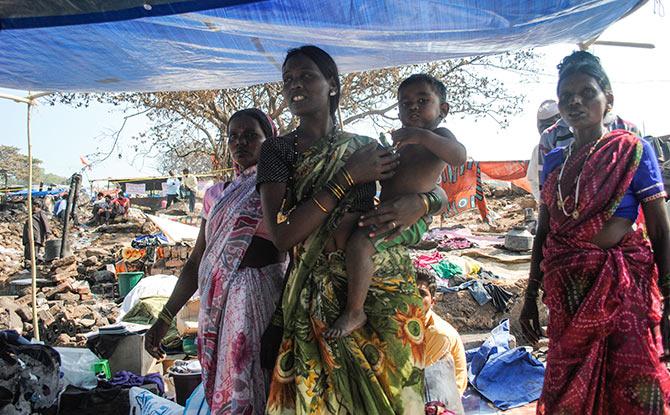 IMAGE: Sunita Nikalje holds fort where her father Prahlad Kharat was blown up in a cylinder blast.
"He was here, sleeping on the floor inside the house," Sunita says pointing to the bed under which Prahlad's burnt body was found later that evening. "When the fire spread and engulfed our house he panicked and tried to seek shelter under the bed. Before he could take further action the cylinder (inside their house) exploded and his body was blown to bits," she says describing what her neighbours told her about her father's last moments.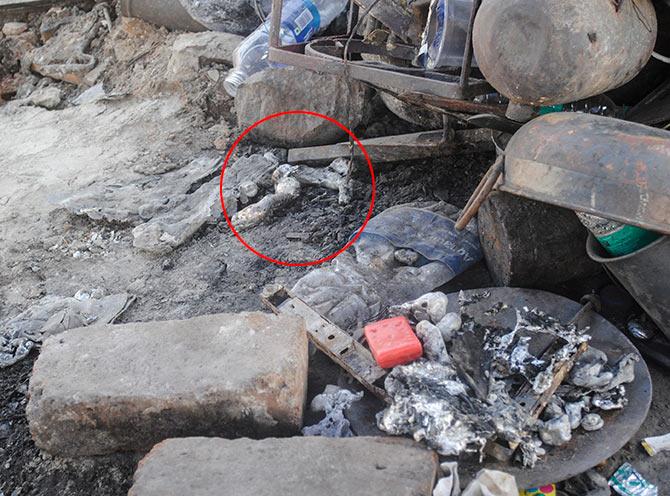 IMAGE: Sunita Nikalje points to the spot (circled, red), claiming it to be her father's mortal remains.
She shows the charred bed and points towards the ash underneath. "That's my father's ashes," she chokes. "We even found his bones scattered under the bed."
"Whatever we could gather of his mortal remains we cremated it. All the utensils too melted by the heat of the fire," she says impressing upon the extent and magnitude of fire that killed her father (See the video, here).
That's catastrophe
Unlike Prahlad, Nanebai was a frail, old lady.
Dashrath Hiwale, Gangubai's son, and his wife Suman, just like most able-bodied people had reported to work that fateful morning.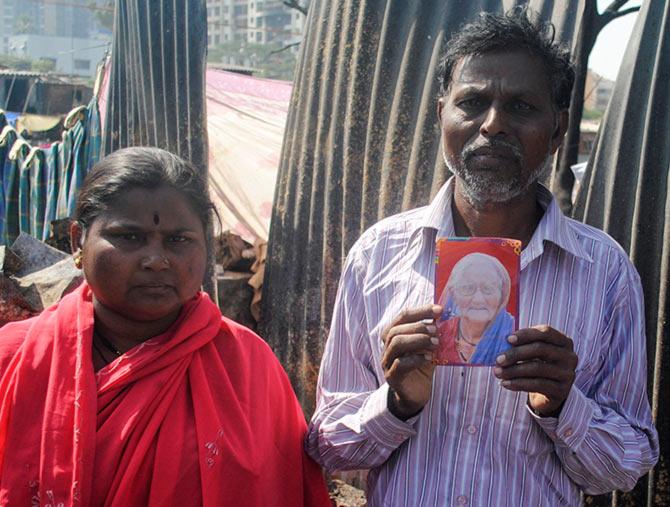 IMAGE: Dashrath Hiwale and his wife Suman are inconsolable. He lost his mother Nanebai in yet another cylinder blast.
"There was a blast in the adjacent house and my mother-in-law being old couldn't react and get out of the house. The fire spread soon and consumed our house too. She was 70. Both of us were at work. When we came home afternoon for lunch did we know about this fire and her death," says Suman.
"Everybody was running, there was chaos, everybody wanted to save their own lives. I can't blame anybody for not making an effort to save my mother-in-law. There was utter panic and chaos. Everybody feared their own deaths. Nobody knew how to react," Alka adds.
"My mother died at this place. We just found her body above her torso. Her legs were missing from the dead body that we took for cremation the next day. My mother couldn't escape this death trap," her son says pointing to the bathroom where Nanebai took refuge unwittingly (See the video, here).
The cylinder was kept next to the bathroom.
***
Once down the hill and out of Damu Nagar, we see a huge posse of policemen spread across the Damu Nagar bus depot.
An equally big, noisy, crowd had gathered to listen to Senior Inspector Dilip Yadav of the Damu Nagar police station, his senior Assistant Ccommissioner of Police Bhalekar, and Dr Navnath Jare, Sub Divisional Officer, Mumbai, Western Suburbs, the only senior government representatives cajoling the uneasy crowds to accept the Rs 3,800 cheques without a fuss.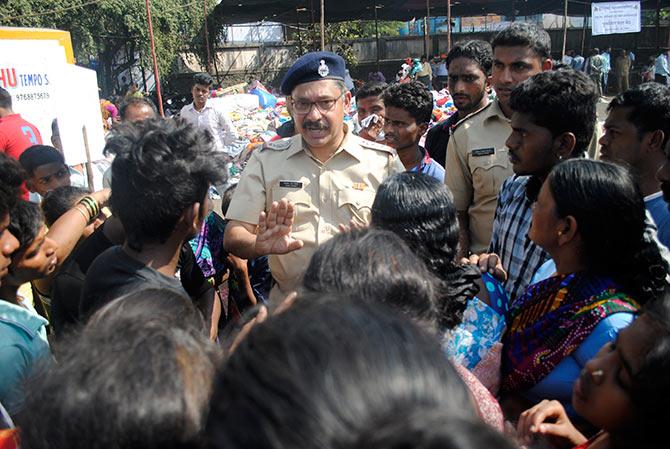 IMAGE: A group of angry residents confronting Senior Inspector Dilip Yadav over compensation.
The restless crowd had already made up its mind. They had lost all their belongings, life savings, gold, cash (Rekha Hiwale lost Rs 70,000 to the fire; She had collected this money to repay the money she had borrowed for her wedding; See video, here) that she had planned to repay in the inferno and now they were being asked to accept measly compensation.
Dr Jare's fervent appeals to the crowds, asserting that this cash was "immediate compensation" there was more in the offing. However, he could not categorically state what more compensation the government had planned for these hapless people.
There is a small harangue around Yadav (see the video, here) as he calms a group of youngsters telling them that if they did not want the compensation cheques they should not force or threaten others from accepting the same.
"We just want our houses rebuilt and nothing more. Else we will agitate for this. We will block the (Western Express) highway. Will the government listen only after we agitate? Or are two deaths not enough for the government to take our demands seriously? Had this incident happened at night you would have witnessed hundreds of dead bodies lying around here," an angry youth blurts out as the crowd disperses to fight its battle of survival.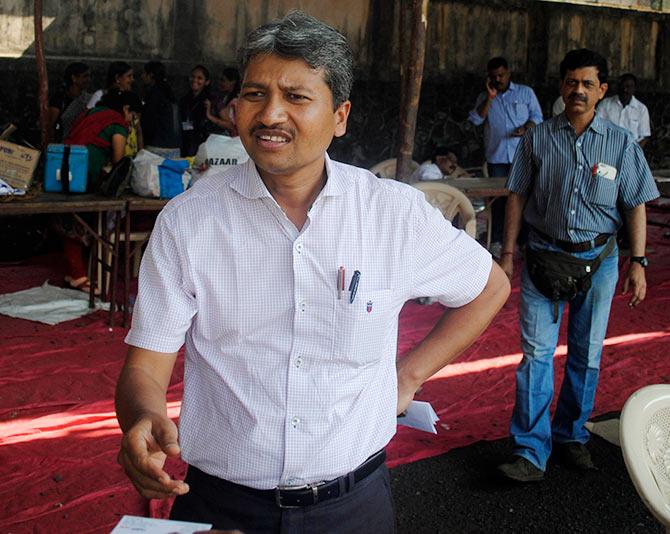 IMAGE: Dr Navnath Jare, Sub Divisional Officer, Mumbai, Western Suburbs motivates his staff who felt intimidated by the angry crowds.
Behind the crowds, Dr Jare gets busy motivating (see his interview, here) his staff and making arrangements for issuing cheques. But, there are no takers.
"Where shall we go?" asks an angry woman. "Shall we die?"