Journalist Prashant Kanojia was arrested by the UP police on August 18 for a retweet and has been in custody ever since.
Syed Firdaus Ashraf/Rediff.com reports.
Punished for fake news, or is it the politics of intimidation?
This is the curious case of Prashant Kanojia -- a journalist who worked for The Wire Web site -- who was arrested by the Uttar Pradesh police in August for retweeting an incorrect tweet about the Ram temple in Ayodhya. He has been in jail ever since.
On August 18, Kanojia was taken away by policemen acting on a complaint filed by Dinesh Kumar Shukla, a sub-inspector posted at the Hazaratganj police station in Lucknow, accusing Kanojia of sharing an 'objectionable' post.
Jagisha Arora, Kanojia's wife, isn't shocked about the arrest -- it's not the first time her husband has been whisked away by cops.
In June last year, the UP police arrested him on the basis of a complaint filed by Vikas Kumar, another sub-inspector in Lucknow, for a tweet about Chief Minister Ajay Mohan Bisht aka Yogi Adityanath.
"When they came to arrest Prashant this time," Arora says, "they did not tell me why they were taking him away," adding, "They took him away without giving any explanation. They only said there was an arrest warrant."
"I am at a loss for words. I have no idea what is happening in my life. It is 50 days and more. There is no end to my misery," she laments.
Kanojia's retweet, Arora confirms, was incorrect. Kanojia, a Dalit, deleted the tweet within minutes after he realised it was fake, she says.
He was booked under nine sections of the Indian Penal Code, including one that charged him with fanning communal hate, and defamation.
"He did not share the fake news, but he only retweeted from a verified account. And they targeted only Prashant, but not the person who had posted this news which was doctored," Arora adds.
"There are so many people who spread fake news," she points out, "but no action is taken against them. They are taking action against Prashant because of his writings and because he dissents against the UP government."
"Even in the Hathras incident, a reporter was charged under the harsh and stringent UAPA (Unlawful Activities (Prevention) Act) while he had gone there to cover the events on the ground," she says.
"I don't know when Prashant will get bail," she says. On September 21 the Allahabad high court, while hearing Kanojia's bail plea, gave the UP government a month's time to respond.
"I have not met him because of the coronavirus pandemic and he has no phone. I have no idea what is going on in his life," she adds.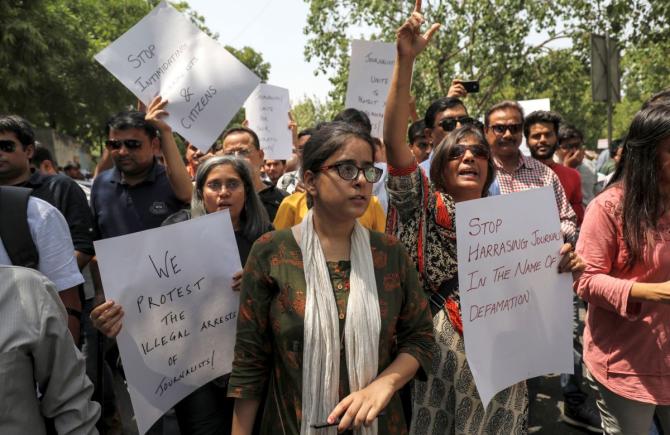 Recalling Kanojia's 2019 arrest, she says, "Earlier too, he was arrested for a tweet. Currently things in UP are getting worse. Dalits and Adivasis suffer the most."
In June 2019, Jagisha had to approach the Supreme Court after the UP government arrested Kanojia for his tweet about Chief Minister Bisht.
After spending 11 days in custody, the Supreme Court released the journalist, stating, 'The Fundamental Right to Liberty is sacrosanct and non-negotiable.'
"Then he was arrested six months into our marriage. The Supreme Court told the UP government that there is a right to freedom of expression and released him. But this time I have no idea how long the wait will be. I just hope he comes home as soon as possible."
"We had an inter-caste marriage, I ran away from home and married Prashant in the Arya Samaj," she says.
"I only have my friends and lawyers helping me in these difficult times. They are only my support system."