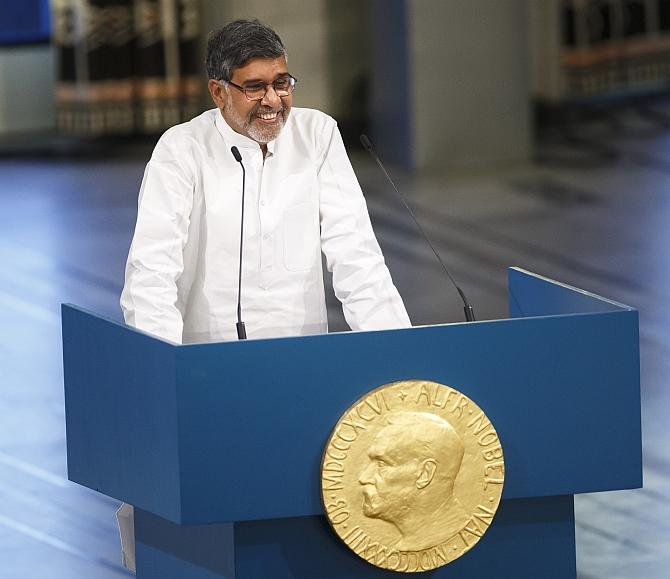 Image: Nobel Peace Prize laureate Kailash Satyarthi had the audience in splits as he joked about his lost address during the Nobel Peace Prize awards ceremony at the City Hall in Oslo. Photograph:
Heiko Junge/Reuters


Kailash Satyarthi, winner of this year's Nobel Peace Prize along with Pakistani teenage activist Malala Yousafzai, lost a page of his speech on Wednesday midway through his lecture and wondered whether this had happened before to any other Nobel laureate.
"Solutions are not found only in the deliberations in conferences and prescriptions from a distance...Friends what is missing now of course is my (speech) paper," he said amid peals of laughter in the Oslo City Hall where he received the coveted prize.
"But, no problem, I will continue without that," the 60-year-old said, quickly regaining composure.
Minutes later, a Norwegian official came on stage with the missing page of his lecture and Satyarthi once again had the audience in splits saying, "Thank you so much! I don't know whether it has happened to some Nobel laureate before or not."
"But many things are happening today and the best thing that happened is that a young and courageous Pakistani girl has met an Indian father and the Indian father met the Pakistani daughter," he said.
Satyarthi, in his address, spoke of how he represented the "sound of silence" and the "cry of innocence" at the awards function. "I have come here to share the voices and dreams of our children, our children, because they are all our children," he said.
The activist also invoked other religions to impress upon the importance of child rights, saying "all the great religions tell us to care for children."
"Jesus said 'Let the children come to me; do not hinder them, for the kingdom of God belongs to them.' The Holy Quran says, "Kill not your children because of poverty," Satyarthi said.
Satyarthi's non-government organisation Bachpan Bachao Andolan (Save Childhood Movement) prides itself on liberating over 80,000 children from bonded labour in factories and workshops across India.