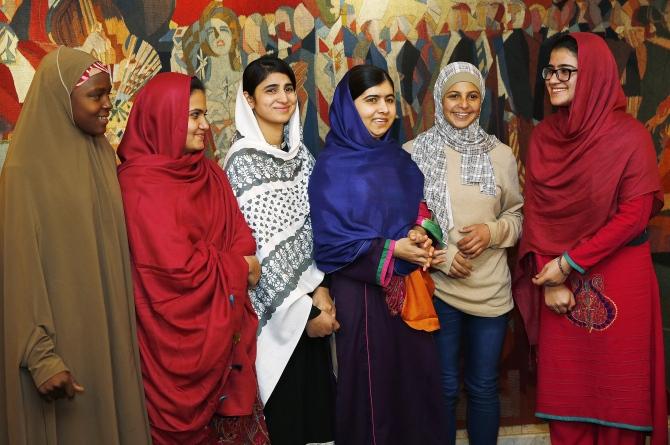 Image: Nobel Peace Prize laureate Malala Yousafzai (centre) poses for a photo with young activists she invited to accompany her in Oslo. From left to right: Amina Yusuf of Nigeria, Kainat Soomro of Pakistan, Shazia Ramzan of Pakistan, Malala, Mezon Almellehan of Syria and Kainat Riaz of Pakistan. Photograph: Suzanne Plunkett/Reuters
"I am Shazia."

"I am Kainat Riaz."

"I am Kainat Somro."

"I am Mezon."

"I am Amina."
"I am those 66 million girls who are out of school," said Malala Yousafzai after she was conferred the Nobel Prize on Wednesday in Oslo. The five names mentioned by the world's youngest laureate in her Nobel lecture are her friends from across the world and what united them is the campaign for education for every child.

Rediff.com profiles Malala's five extraordinary young friends and fellow activists.
Kainat Riaz
Kainat Riaz was sitting next to Malala in the same bus when a gunman appeared and opened fire on them. Kainat was shot in the upper right arm, while Malala received a bullet injury in her head on October 9, 2012.
"When you are educated, you are able to do everything," Riaz said. "If you are not educated, you can't do anything," she told the media after the ceremony. "The Malala mission is our mission. She's my friend. And she inspired us. We will always support her," she said.
Shazia Ramzan
Shazia, then 13, was sitting in front of Malala and Kainat when the gunman barged in and asked, "Who is Malala?"

The brave identified herself; the gunman shot her. He then turned his gun at Shazia.
He shot Shazia twice -- below her collarbone and in her left hand. Finally, he shot Kainat and then jumped off the bus.
Both Shazia and Kainat are now studying in Wales at the UWC Atlantic College and both want to become doctors.
Kainat Soomro
She was only 13 when she was gang-raped in Pakistan's Mehar. Her struggle to obtain justice drew global attention in 2007.
Soomro's father was ridiculed by the police. The conservative community in Pakistan said that she should be "killed for honour"; her family stood by her and rejected it outright. Fearing the subsequent backlash, the family left for Karachi.

Defying all norms, she took her alleged perpetrators to court, and has worked tirelessly since then to bring them to justice. The alleged rapists are still at large.
Mezon Almellehan
This 16-year-old Syrian refugee, who lives with her family in a camp in Azraq, Jordan champions for girls' education within the camps.

She met Malala earlier this year at the large Syrian refugee camp, Za'atari, where Almellehan was living at the time.
Amina Yusuf
Amina Yusuf, 17, is a girls' education activist from northern Nigeria where the terror group Boko Haram abducted more than 200 schoolgirls during a raid in April 2014.