'I was invited to join the BJP, and I felt respected when they called me.'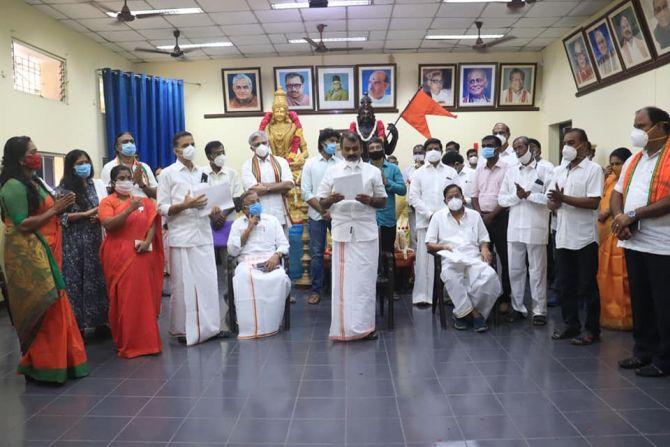 L Murugan, who was appointed president of the Bharatiya Janata Party's Tamil Nadu unit in March, has revamped the party organisation to keep the powder dry for next year's assembly election.
The hurry is understandable given that the BJP, which contested last year's general election in league with the All India Anna Dravida Munnetra Kazhagam which rules Tamil Nadu, drew a blank. The BJP does not have a single legislator in the state assembly either.
Among the names that stood out in the organisational appointments Murugan made this week is Vidhya Rani, whose father, the dreaded sandalwood smuggler Veerappan, was killed by the Tamil Nadu special task force in 2004.
A new entrant to the BJP, Vidhya Rani, who joined the party in February, has been appointed vice-president of the state youth wing.
Vidhya Rani -- who is 29 and has BA and LLB degrees -- tells A Ganesh Nadar/Rediff.com that she has always been interested in social work and that is why she entered politics.
A friend of the family, Saisuresh, was a senior member in the BJP and he introduced her to the party.
"I like Prime Minister Narendra Modi and so I joined the party," says Vidhya Rani. "The prime minister is very strict, he is very active and he always does the right thing."
Tamil Nadu has been ruled by either the DMK or the AIADMK for 53 years. So one why did she join the BJP and not one of the Dravidian majors? "I was invited to join the BJP to serve the people, and I felt respected when they called me," she explains.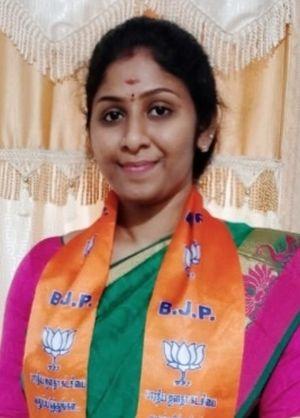 In her role as the youth wing vice-president Vidhya Rani, left, says she will inspire youngsters to follow the right path, help them develop their abilities further and help them get employment.
As a novice in politics, she agrees, "I have a lot to learn about political work."
Vidhya Rani is not thinking about entering electoral politics now. "I have not decided anything about that, I have been given certain responsibilities by the party, I will work on them," she says.
After the lockdown was declared in Tamil Nadu she stayed at home and once things eased up she started taking part in awareness campaigns in her area. "I always wear a mask, use a hand sanitiser frequently, keep a distance from people and avoid crowded places," she laughs.
Won't politicians opposed to the BJP in Tamil Nadu bring up her father Veerappan to attack her?
"Everyone knows about my dad. There is nothing new that they can talk about," she says. "For me he is a father. I will focus on my work. I don't go for negativity, I go for development and positivity."
Had Veerappan been alive, says Vidhya Rani, her father -- who once kidnapped Kannada movie superstar Dr Rajkumar -- would have been proud of her for joining politics.
"Obviously, he would have been happy with me, he loved people and he would be proud that I am doing service to the people."