Vast experience in running the government and mass appeal across the state have favoured Siddaramaiah in the tightly contested race for Karnataka chief minister.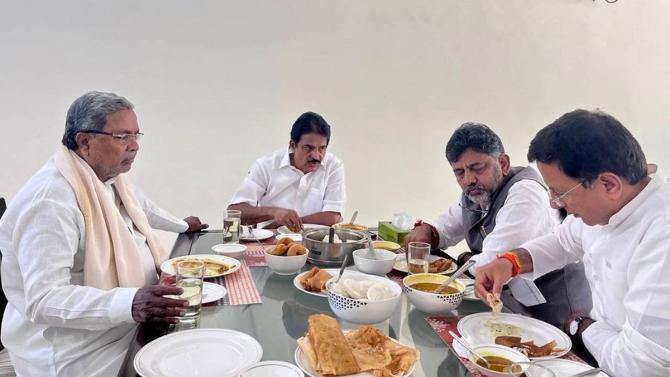 The Congress leadership threw its weight behind the 75-year-old Siddaramaiah keeping in view the 2024 Lok Sabha elections, where his clout among the OBCs, SCs and Muslims would play a key role.
Siddaramaiah also brings to the table the experience of managing the government and competing interests of a caste and class-dominated Karnataka, having served as chief minister from 2013 to 2018.
The tallest among the state leaders, his persona and vote garnering abilities could not be ignored by the party, which is looking forward to capture as many seats in the next Lok Sabha polls, a senior leader said.
He also enjoys the support of a majority of Congress MLAs, who had voted for him and pitched him as the chief ministerial candidate during the secret ballot after the first Congress legislature party meet in the state.
His appeal among the masses was evident during the poll campaigning in Karnataka and the same was also seen during the Bharat Jodo Yatra that passed through the state from October 1 last year, when a large section of people participated in it after he garnered support.
Even before the Karnataka elections, there was a broad agreement among top Congress leaders that Siddaramaiah was best suited for chief ministership, should the party get elected.
Siddaramaiah happens to be the only chief minister besides Congress party's late Devraj Urs to complete a full five-year term in the post.
A nine-term MLA, Siddaramaiah joined the Congress after quitting the Janata Dal-Secular in 2006. He went on to occupy significant positions in the Congress.
He quit the JD-S in 2006 after organising three 'Ahinda' rallies and formed his new outfit, which got its identity in the zilla panchayat elections. Later following an offer from the Congress leadership, he joined it with his followers in 2006.
'Ahinda' is a socio-political concept that represents minorities, backward classes and Dalits.
Soon after joining the Congress, he resigned from the Chamundeshwari assembly seat and went on to successfully contest the bypoll from the same seat on a Congress ticket.
Siddaramaiah was appointed as KPCC publicity committee chairman for general elections 2008 and strived hard to garner maximum votes in favour of the Congress. He was elected to the rechristened Varuna constituency during the 2008 polls.
Born on August 12, 1948, at Siddaramana Hundi, a remote village in Varuna Hobli of Mysore district, Siddaramaiah hails from a poor farming community.
He was the first in his family to graduate in science from Mysuru university, and also got his law degree from Mysore University and pursued the legal profession for some time.