'Whether he will apologise or not is not a problem.'
'I want him to make an effort to create a new world, by learning from history.'
Vaihayasi Pande Daniel/Rediff.com speaks to some Japanese living in India and in Japan about President Obama's historic visit to Hiroshima.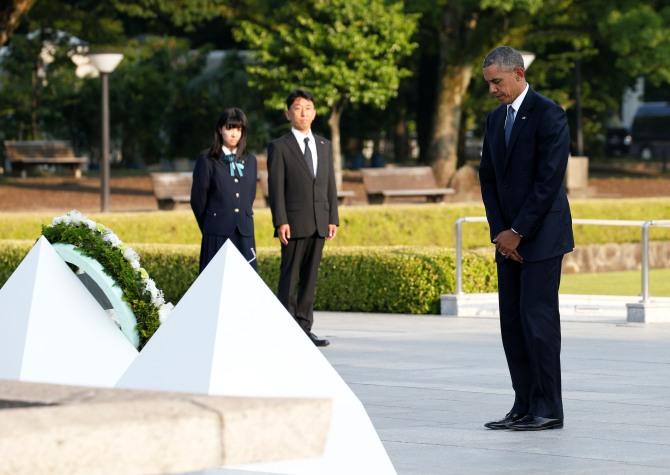 IMAGE: President Barack Obama at the Hiroshima Peace Memorial Park in Hiroshima. Photographs: Toru Hanai/Reuters
For a modest population of people living in close-knit communities across India -- Mumbai, Delhi, Pune, Chennai, Bengaluru, Ahmedabad and Sataku or Japantown, Haldia -- May 27, 2016 was a meaningful day when the clock turned back. And new healing began.
"The American president's visit to Hiroshima is historically significant," says Yoji Yoshikawa, principal of the Japanese School Educational Trust (started 40 years ago) in Chennai.
Yoshikawa, who move to India last year, runs the Japanese language school in Tharamani in the southern part of the city, adjacent to several IT parks. The school has nearly 90 students.
"Whether he will apologise or not now is not a problem. I want him to make an effort to create a new world, by learning from history. It is a good direction. It is most important that we move forward step by step," he says.
Yoshikawa is one of approximately 1,000 Japanese who live in Chennai and nearly 9,000 to 10,000 in India and among the few willing to speak to Rediff.com about American President Barack Obama's historic visit to forever-scarred Hiroshima on Friday, May 27.
Language is a barrier. Then many are reluctant to offer political takes or what they term their private views.
"Probably it is because the Japanese people don't show emotions," explains Minako Ando, who teaches yoga and works as a translator for an Indian-Japanese IT project in Pune, adding, "Nor do they want to talk about something negative. It is more of a cultural thing. We do try to hide or express our emotions so much, not in public."
Reactions that came in are very measured and restrained.
Tomio Isogai, managing director, Sharp India Ltd, who has been living in Pune since 2011, where about 200 Japanese live (with not enough Japanese restaurants, he says) was not watching the events live.
"I feel very happy. I believe it makes President Obama very special, in a sense that no other US President has ever done (visited Hiroshima, which the Americans devastated with an atomic bomb on August 6, 1945, killing thousands and maiming thousands of others). I believe it will make an emotional moment for all Japanese all over the world," says Isogai.
Ando offers observation that Obama's trip to this now ultra-modern southern Japanese city of one million plus, where he said, 'Death fell from the sky,' made her feel "very positive."
It was a huge moment for the Japanese, Ando adds, especially since no other incumbent American president has had the courage to visit Hiroshima before.
Obama, she says, was already popular in her country because he is perceived as a different kind of leader, raised to think differently. But from now onwards, she agrees, he would be a respected figure too in Japan, having endeared himself to the next many generations of Japanese with his simple but momentous and "sentimental" gesture.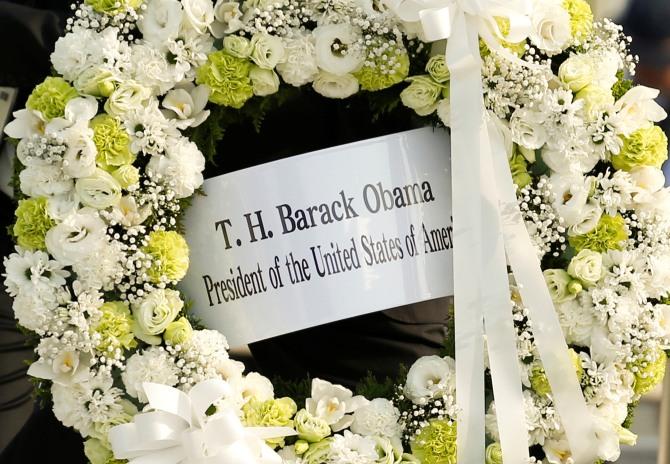 IMAGE: The wreath Obama laid at the Hiroshima memorial.
Yoshikawa feels words are not enough to express what he felt when he saw Obama, Japanese Prime Minister Shinzo Abe by his side, lay a wreath of white flowers at the Hiroshima Peace Park and declare sombrely that memories of the August 6, 1945 American nuclear attack must never fade.
"No need to speak the words," says Yoshikawa. The "behaviour shows the mind."
"Friday's event signifies: Yes, we can change! It is important to love many things. To hate will create nothing," says Yoshikawa. "After a miserable war, the Japanese people thought about true peace. And we have spent 71 years without a war. We are proud of having a peaceful society."
"Hiroshima and Nagasaki were a tragedy of the human race," adds Yoshikawa. "These tragedies should never be repeated. We must say no more Hiroshima and no more Nagasaki."
Ando, who followed Obama's Hiroshima visit online from Pune, attempts to explain what the August 6 and 9 (when Nagasaki was devastated by another American atomic bomb) tragedies really means to the Japanese.
"We have concerns that the younger generation would not be able to understand what actually happened. But both generations (young and old) are unified in the view that there should be no more nuclear war," Ando says.
"All of us, even the younger generation, don't want to possess a weapon. We are generally anti-violence," Ando adds. "India has the same opinion on weapons. But yes, the Japanese are particular about their anti-violence stand."
Isogai thoughtfully adds that it might be Japan's turn now to build upon Obama's gesture.
"I hope the Japanese prime minister will reciprocate President Obama's brave deed by making a special trip to visit Pearl Harbour (the American naval base in Hawaii, which the Japanese bombed on December 7, 1941, drawing America into World War II)," says Isogai. "That will make another historical and emotional moment for both countries."
Ryoko Kubo, senior editor, India bureau for NNA ASIA, a subsidiary of the Japanese news agency Kyodo, has been posted in Delhi for the past three years. Her father Katsunori Kubo, 70, was born in June 1945 in Hiroshima, a few days before the Paul Tibbets-commanded Enola Gay bomber dropped 'Little Boy,' as the Americans dubbed the atomic bomb.
Kubo still lives with thyroid cancer, a stark reminder of the attack.
She and her father both spoke to Rediff.com, via a translator, (he from Japan), and underlined that Hiroshima's grim magnitude conveyed the identical message to both of them.
It always reminds them of "the futility of war."
"The fact that Obama is the first serving US president to visit Hiroshima makes him special among the Japanese," says Ryoko. "We Japanese had requested many former American presidents to visit and offer an apology. But nothing happened. So, it's really special, but not historical."
Her father, who left Hiroshima after high school and now lives between Kyoto and Tokyo, says, "For me it matters a lot! I have been watching television for the last two-and-a-half hours with my wife. It's a very emotional moment for us. I am happy that he has visited. I think the people of my generation are very emotional."
"It matters more to my father. He has seen those horrible times," says Ryoko. "I am not emotional, but happy that he visited."
Both father and daughter don't feel an American apology is that critical at this point.
They were neither wanting nor expecting that kind of message from Obama to the people of Japan. Says Ryoko, "We would have loved that, but to the new generation it doesn't matter."
Adds Katsunori, "Yes, we would have appreciated that, but we want to live in harmony, and don't want to create an issue out of it. Let me be frank" Most of us don't want an American apology."
It was enough for Katsunori to watch Barack Obama, in his city of birth, embrace the tearful Shigeaki Mori, the 79-year-old survivor of Hiroshima, and solemnly offer a moment of silence and a wreath of peace, that circle denoting eternal life.
With Atul Ranjan's kind help in translation.