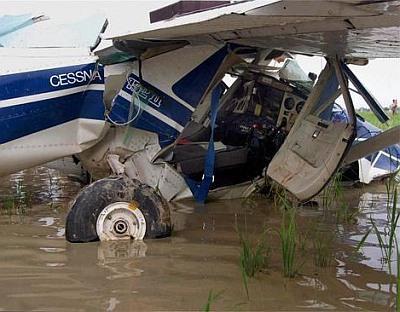 A trainer aircraft crashed in Rae Bareli's IGRUA three years ago as the trainee pilot was busy taking pictures, an inquiry has shown with officials saying a large number of accidents involving helicopters and small planes were caused by human error.
There were 30 accidents involving helicopters and other aircraft in which 52 people were killed since 2011, with a large number being caused by human error, the officials said.
While the enquiry reports on 10 of them are still awaited, 13 of the 20 were primarily caused by human error and four for technical reasons. Inclement weather was also a cause in a few of them, they said.

Official data showed that 11 accidents occurred in 2011, nine in 2012, eight in 2013 and two till March and in most of these cases, the choppers suffered substantial damage, apart from the 52 fatalities.
On the accident of October 11, 2011 at Indira Gandhi Rashtriya Udaan Academy (IGRUA), the probe report said the trainee pilot got "distracted due to his indulgence in taking pictures while making a low pass over the airfield", which led the two-seater Zlin 242 trainer aircraft to hit high tension cables and crash to the ground in an upside position.
Luckily no one was killed but the plane was badly damaged.
DGCA, which has issued a series of guidelines on operation of choppers and small planes, has said that analysis of these accidents or incidents, as also the past experience of election flying, has revealed that laid down instructions were violated "time and again and safety jeopardised".

Among the 'human errors' detected include inadequate skill level of a pilot, error of judgement, adoption of wrong procedures or mishandling of engine control.

There was a case when the crew got spatially disoriented during a turn, while in another the pilots lost situational awareness as the chopper got into a 'vortex ring state' (VRS) causing rapid descent.

In VRS condition, air moves down through the rotor, turns outward and then upwards and inwards. This re-circulation of flow can negate much of the lifting force and cause a catastrophic loss of altitude. Applying more power to check descent further accelerates the downwash.

Issues like long flying hours, large number of take-offs and landings, weather changes, lack of proper rest, hurriedly prepared helipads during polls and congested airspace posed serious challenges to air travel, DGCA sources said.

Particularly during election time, frequent changes in itinerary, time management, highly stressed security arrangement, surcharged crowds, difficult and disturbed areas and lack of adequate communications also pose risk, they said.

In this context, they also referred to an incident in Maharashtra in April when pilots and an engineer of a chopper were beaten up by political activists when they refused to fly to a destination sought by a leader without getting flight clearances and Election Commission's permit.

The regulator has stressed on recurrent training of pilots to upgrade skills at regular intervals. It has also held the operators responsible for ensuring that pilot proficiency and periodic monitoring to ensure that the cockpit crew acquires and maintains competency to perform safely and efficiently, the sources said