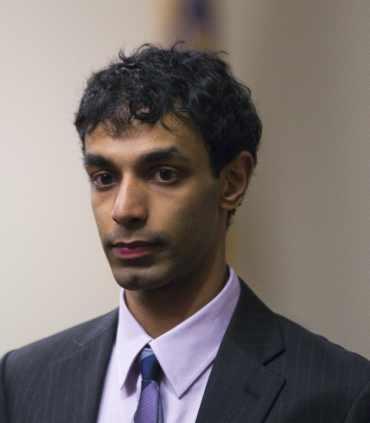 Dharun Ravi was not convicted of a hate crime. He has been convicted of a bias crime and there is a difference, said the judge who sentenced him to 30 days in jail on Monday for using a webcam to spy on his Rutgers University roommate. Suman Mozumder reports  


Much to the apparent relief of the defence and the chagrin of the prosecution, a judge on Monday sentenced Dharun Ravi, convicted on webcam spying of his roommate Tyler Clementi's gay sexual encounters, to only 30-day in jail, far less than 10 years, the maximum he could have been given.
'Jai ho Dharun beta! Bhagwan hamare saath hai,' a few elderly Indian Americans cheered loudly as Ravi along with his parents, escorted by court security, left Middlesex county superior court after sentencing.
Ravi's parents did not respond to the cheer. But his father Ravi Pajani waived at the crowd briefly. None of them spoke a word despite repeated requests by the media.
Judge Glenn Berman explained why he sentenced Ravi to 30 days in jail in addition to 300 hours of community service and not the maximum sentence.
He said that he weighed aggravating factors and the mitigating factors in the crime. "The aggravating factors can outweigh five mitigating factors and vice versa. In my view the sentence should be balanced and possibly constructive," the judge said.
'The word hate has never crossed my lips. Ravi was not convicted of hate crime. He has been convicted of a bias crime and there is a difference. I say this because I do not believe that Ravi hated Clementi because he has no reason to do that. But I do believe that he (Ravi) acted out of colossal insensitivity," the judge said.
He also said that he did not want to deport Ravi, who is an Indian citizen, to his native as has been speculated in the media prior to the sentencing.
The judge said that his decision came after a statement by one of the victims in the case identified in court documents only as 'MB.' The victim said in a statement read by the person's lawyer in the court on Monday that he did not want Ravi to be deported.
Berman said that both sides may have an issue with sentence. "My view is it (the sentencing) should be balanced," he added.
Although Ravi was not charged with abetting suicide, in March this year, a 12-member jury convicted Ravi of 15 criminal counts. That included invasion of Clementi's privacy, bias intimidation, and witness and evidence tampering. 
But the judge also flayed Ravi for not apologising to the family of Tyler Clementi. "I heard this jury say guilty 288 times: 24 questions, 12 jurors, that's the multiplication," Berman told Ravi from the bench. "And I haven't heard you apologise once," the judge said.
Throughout the proceedings, Ravi, flanked by his lawyers, remained silent. He occasionally bit his lips. Even before and after the sentencing, Ravi, with a vacant look, hardly attempted to make eye contact with the judge or the prosecution.
The judge, who also ordered Ravi to pay $11,950, asked him to report to the Middlesex prison May 31 to begin his sentence. But he allowed the defence and prosecution ten days beginning Monday for appeal.
Sources said both the defence and the prosecution are likely to appeal -- the prosecution because it feels the sentence is lighter and the defence that Ravi was sentenced.
Ravi, despite being offered a plea bargain, refused to do so because he felt he was innocent of the charges and had not committed the crimes alleged by prosecutors.

Image: Dharun Ravi, a former Rutgers University student charged with bias intimidation, stands after hearing the verdict in his trial at the Superior Court of New Jersey in Middlesex County, New Brunswick, New Jersey | Photograph: Lucas Jackson/Reuters