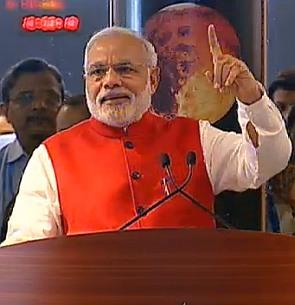 An ecstatic Prime Minister Narendra Modi on Wednesday hailed the scientists of the Indian Space Research Organisation for successfully inserting the Mars Orbitor Mission or Mangalyaan into Martian orbit.
Saluting India's space scientists after its Mars mission created history, the prime minister said the country had achieved the "near impossible" and prevailed though the "odds were stacked against us".

Calling the "spectacular" success of the country's space programme after the Mars feat as a shining example of what it was capable of as a nation, Modi said it has dared to reach out into the unknown and gone beyond boundaries of human enterprise and imagination.

"The odds were stacked against us. Of the 51 missions attempted across the world so far, a mere 21 had succeeded. But we have prevailed!," Modi said in his speech announcing the success of Mars Orbiter Mission 'Mangalyaan'.

"Today MOM has met Mangal (Mars). Today Mangal has got MOM. The time this mission was short named as MOM, I was sure that MOM won't disappoint us," Modi, who wore a red-coloured jacket, told the scientists at the ISRO command centre in Bangalore.

As the orbiter was placed in the orbit of the Red Planet, Modi patted the back of Indian Space Research Organisation Chairman K Radhakrishan after watching the critical final moments with space scientists.

"India has successfully reached Mars, congratulations to all of you, congratulations to countrymen. History has been created today. We have dared to reach out into the unknown and have achieved the near impossible," said Modi, as India became the first country to succeed in the mission to Mars in the very first attempt.

"Travelling a mind-boggling distance of more than 650 million, or 65 crore kilometres, we have gone beyond the boundaries of human enterprise and imagination. We have, accurately navigated our spacecraft, through a route known to very few," he said, showering compliments on ISRO scientists.

Modi told the scientists that through their brilliance and hard work, "you have made it a habit of achieving the impossible."

"No one represents this zeal for exploring the unknown more than our space scientists here at ISRO," he said, adding, "These are all accomplishments that will go down as landmarks in history."

India's Mars orbiter, the Prime Minister noted, had been built indigenously, in a pan-Indian effort, stretching from Bangalore to Bhubaneswar, and Faridabad to Rajkot.

He noted that the spacecraft had been put together in a record time with a mere three years of studying its feasibility, which was matter of pride for Indians.

"India is the only country to have succeeded in its very first attempt," Modi stressed, adding that, with today's spectacular success, ISRO joins an elite group of only three other agencies worldwide to have successfully reached the red planet.

He said the success of India's space programme is a shining symbol of "what we are capable of as a nation".

"Let today's success drive us with even greater vigour and conviction. Let's set ourselves even more challenging goals--this too must become a base for challenging the next frontier," he said.

Modi said Atal Bihari Vajpayee's "vision had inspired us to reach for the moon. The successful Chandrayan mission in turn led to the Mars Orbiter Mission.

"Modern India must continue playing this leading role of 'Jagad-guru Bharat'. Our efforts have historically focussed on ultimate objective of nation-building. Of translating space technology into space applications," he said.

The Prime Minister told the scientists, "Through your achievements, you have honoured our fore-fathers and inspired our future generations."