Gloom and pall descended on Patna's Gandhi Maidan after 33 people died in a stampede shortly after the end of the Dussehra celebrations.
A girl and a woman cry outside an emergency hospital ward after their relatives were injured during the stampede. Photograph: Reuters
With one more person succumbing to injuries, the toll in the stampede outside the sprawling Gandhi Maidan here after Dussehra celebrations has climbed to 33.
Principal Secretary Home Amir Subhani said that one more person died on Saturday, taking the toll to 33. Twenty-nine others were injured of whom the condition of four patients was stated to be critical, Subhani said. Of the 29 injured admitted to the PatnaMedicalCollege and Hospital, 17 are women and 12 are men, he said.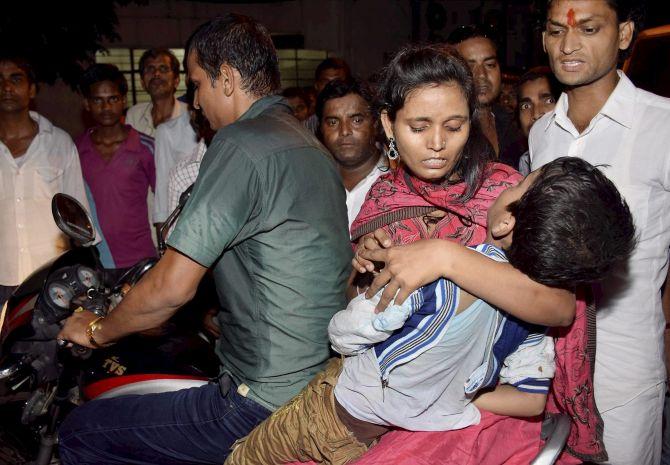 Parents try to rush their injured son to the hospital after a stampede claimed the lives of 33 people. Photograph: PTI photo
People here are mourning the death of their near and dear ones.
A group of slogan shouting, angry people on Saturday protested at the Ramghulam square near Gandhi Maidan. They attacked and damaged half a dozen vehicles. Police resorted to lathicharge to disperse them.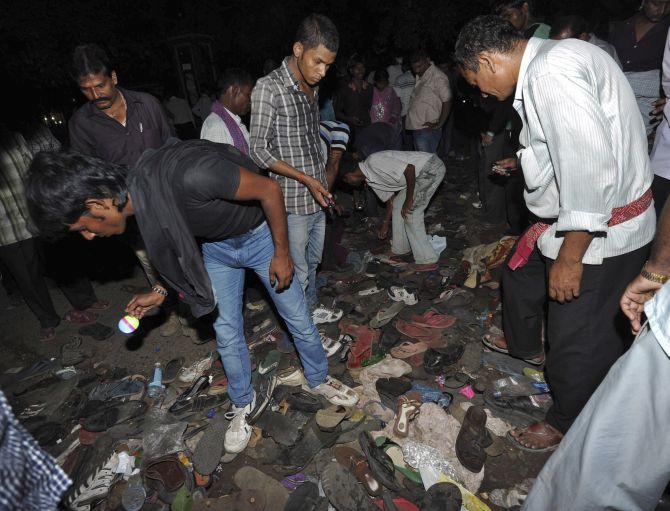 People search for their belongings amongst shoes left behind during a stampede. Photograph: Reuters
Subhani, who along with Additional Director General of Police (Headquarters) Gupteshwar Pandey has been appointed to inquire into the stampede incident, said he would begin the probe with a visit to the spot at Gandhi Maidan at noon.
A large number of wailing people sat outside the PMCH the entire night looking for their near and dear ones who got separated in the melee.
Bihar Chief Minister Jitan Ram Manjhi has announced a compensation of Rs 3 lakh to the next of kin of each of the dead, Rs 50,000 to those seriously injured and Rs 20,000 to those with less grievous injuries.
Condoling the loss of lives in the stampede, Prime Minister Narendra Modi sanctioned an ex-gratia of Rs 2 lakh each to the next of kin of those killed.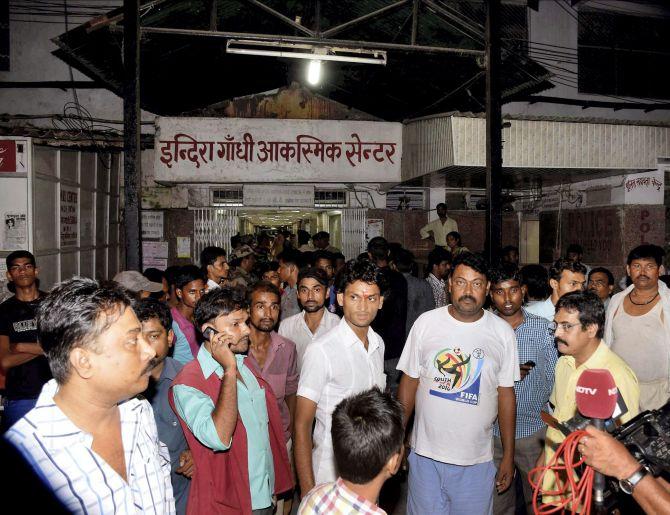 Crowds gather outside the hospital waiting for news of their injured loved ones. Photograph: PTI photo
Locals also slammed the police for making inadequate security arrangements for the people, particularly for their exit saying that no cops were present on the southern side of the Gandhi Maidan to regulate traffic and movement of people. "But for inept policing, loss of large number of lives could have been prevented," said an eyewitness and hinted that the toll must be much higher than being accounted by the administration.
Opposition Bharatiya Janata Party has criticised the Jitan Ram Manjhi government for the "lapses" that resulted in the tragedy.
State Health Minister Ramdhani Singh had to face the ire of the relatives of the victims at PMCH and had to beat a hasty retreat from the spot.
As the minister came out of the hospital, a group of angry relatives of the victims thronged his car and shouted "Why are you coming here after 16 hours?"
When reporters asked the minister about the BJP criticising the state government for the tragedy, he said, "The opposition is doing its duty while we are doing our job."
-- With inputs from PTI