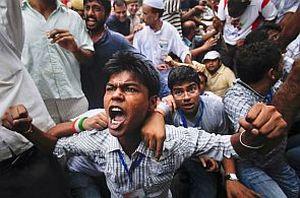 Undeterred by the attack on his convoy by angry protestors, Assam Chief Minister Tarun Gogoi on Monday took stock of the situation in the violence-ravaged Uriamghat area along the disputed Assam-Nagaland boundary. He held a high-level security review meeting at the Sarupathar Railway station.
Gogoi announced that a border protection force would be constituted by the state soon to provide security to people living in vulnerable inter-state boundary areas.
He said the border protection force would be manned by local youth from the border areas. He also said a border development council would be constituted to facilitate rapid development of those remote areas along the state's boundaries.
He made these announcements after holding a meeting with senior officials of Golaghat district administration, Assam Police and CRPF at Sarupathar Railway station.
Gogoi visited 3 of the 12 relief camps set up by Golaghat district administration to shelter people who had fled their homes in border villages after being attacked by miscreants from Nagaland. There are about 8,000 people taking shelter in these camps.
The violence has displaced over 11,000 people while 13 persons were killed by the raiders from Nagaland who went on rampage.
Earlier, Gogoi's convoy was attacked by protesters when he was on his way to visit the
violence-hit Uriamghat in Golaghat district bordering Nagaland.
Gogoi escaped unhurt in the attack but two vehicles at the rear of his convoy were damaged, Additional Director General of Police (Law and Order) A P Rout said.
Protestors pelted stones on the convoy. Police resorted to lathicharge, firing of rubber bullets and used water cannons to disperse the mob of protestors.
Image used only for representational purposes