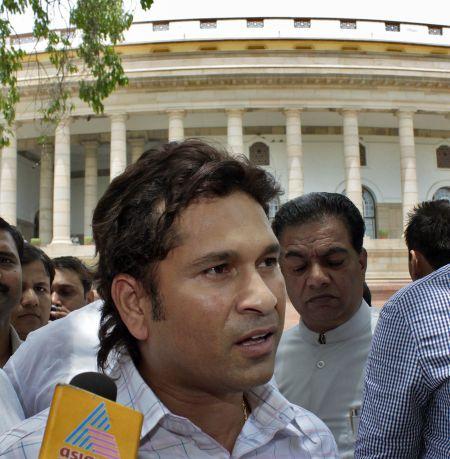 Cricket legend Sachin Tendulkar has come under criticism for not attending a single session of Paliament this year. Parliamentary records the former batsman has not attended a single session this year. He made it to just three in 2013 and has so far not participated in any debates in the house.
Besides the cricketer, the attendance of actress Rekha has also been questioned. The 59-year-old actress has so far attended the parliamentary sitting only seven times.
Questioning their absence, Communist Party of India member P Rajeev said, "If they are absent for 60 days, their seat can be vacated."
Senior Congress leader Rajeev Shukla questioned the point behind Tendulkar's nomination to the Upper House. Bharatiya Janata Party leader Kirti Azad also slammed the cricketing god, saying, "I think Sachin should attend Parliament. He never missed practice when he was playing but now he has retired. So, he should come.
Noted lyricist and Rajya Sabha MP Javed Akhtar added, "Membership of Parliament is not a trophy. Sachin should come to Parliament.
Nationalist Congress Party leader D P Tripathi said, "I like him very much as a cricketer and I really like Rekha as an actress but their conduct as nominated members of Rajya Sabha is despicable to say the least. By their behaviour and continued absence, they have insulted Parliament and Indian Constitution. Such people should have never been nominated to this august house."
Sachin Tendulkar, Rekha were nominated to the 250-member Rajya Sabha in 2012. Their nomination was approved by the then President Pratibha Patil under Article 80 of the Indian Constitution.
VOTE: Should Sachin, Rekha quit as Rajya Sabha MPs?
Image: Sachin Tendulkar speaks to the media after taking the oath at Parliament in New Delhi in 2012. Photograph: Reuters