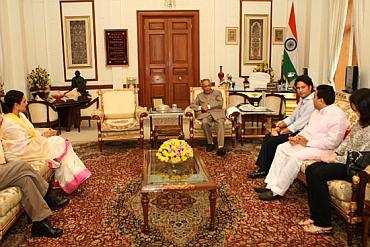 Members of Parliament Rekha and Sachin Tendulkar called on President Pranab Mukherjee on Wednesday morning accompanied by Minister of State for Parliamentary Affairs Rajeev Shukla.
The President met them for around 20 minutes, and during the meeting described some of the salient features of Indian Constitution, the history of Indian Independence and Parliamentary procedures.
After the meeting Sachin described the interaction as highly enjoyable and educative, while Rekha said it was a 'blessing'.