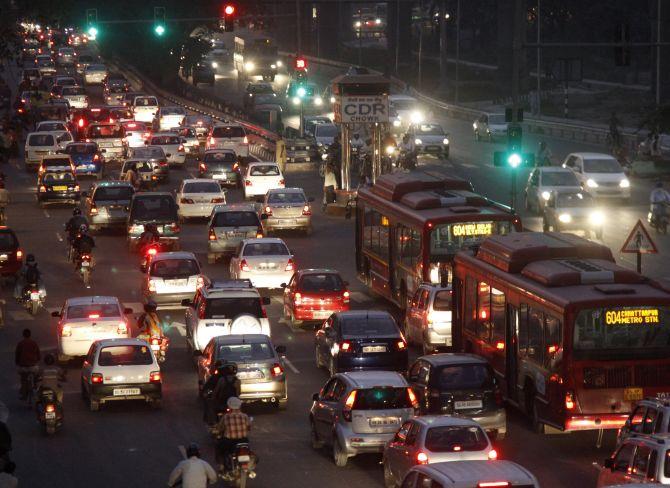 In a radical step to curb alarming air pollution, the Delhi government on Friday restricted plying of private vehicles bearing odd and even registration numbers to alternate days from January 1 in the national capital.
The measures were announced following an emergency meeting chaired by Chief Minister Arvind Kejriwal, a day after the Delhi high court compared the city to a "gas chamber".
Chief Secretary K K Sharma said the government decided to shut down the Badarpur Thermal power station and will move the National Green Tribunal to close the Dadri power plant which falls in Uttar Pradesh.
He said the government will carry out a massive plantation drive along all arterial roads across the city to curb spread of dust and ensure vacuum cleaning of roads by the Public Works Department from April 1.
The government was also mulling to allow movement of trucks only after 11 pm as they slow down overall vehicular movement which was pointed out to be a major contributingfactor to pollution from vehicular emission.
The city government has also decided to make it mandatory for vehicles to have Euro VI standards for vehicular emission from 2017, two years before the Centre's scheduled introduction of the same.
Sharma said public transport will be significantly augmented to take the load of increasing passengers due to the odd-even number restrictions.
All private vehicles even having registration numbers issued by neighbouring states will have to follow the odd-even number formula.
Emergency services and public transport will not be under the ambit of the restriction.
Delhi will become the first such city in India to have such a scheme and the only one after Beijing in Asia.
Delhi has one of the worst air quality in India. According to the Central Pollution Control Board, the air quality of Delhi is said to be "very poor" with an air quality index of 331.
Image: Traffic moves along a busy road in New Delhi. According to the Central Pollution Control Board, the air quality of Delhi is said to be "very poor" with an air quality index of 331. Photograph: B Mathur/Reuters