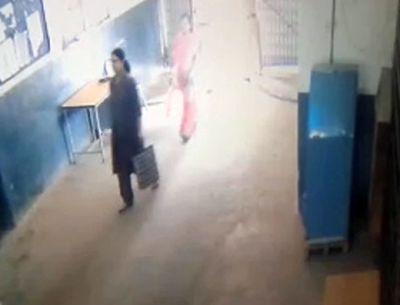 A CCTV footage purportedly showing All India Anna Dravida Munnetra Kazhagam chief V K Sasikala entering the Central jail in Bengaluru along with her sister-in-law in plain clothes has surfaced in the media.
The footage was submitted by ex-deputy inspector general prisons D Roopa on August 19 as part of her statement to the anti-corruption bureau in support of her allegations that Sasikala was being given preferential treatment in the prison.
The footage shows the two women carrying bags and apparently entering the Parapanna Agrahara central prison, where Sasikala is serving a sentence in the disproportionate assets case, after the guard opens one of the gates.
It, however, does not throw light on when it was recorded or which part of the jail it is from.
DG Prisons Nahar Singh Megharikh told a section of the media today that he was not aware of the footage.
He said the one-man commission probing the allegations of Sasikala getting preferential treatment in jail is yet to submit its report.
"Once the commission submits the report, we will know what exactly happened in the prison," he said.
WATCH THE VIDEO BELOW
Sasikala is lodged at Parappana Agrahara central jail in Bengaluru ever since her conviction in February in a disproportionate assets case along with her two relatives V N Sudhakaran and Elavarasi, all serving a four year jail term.
When contacted, Roopa confirmed that she had given evidence to the ACB on August 19.
Roopa had alleged on July 13 that preferential treatment was being given to Sasikala at the prison, amid allegations of payment of Rs two crore to the official for it, prompting the government to order a probe into it.
She had levelled the charges in a report to her superior DGP-Prisons H S Sathyanarayana Rao.
Chief Minister Siddaramaiah had announced a "high-level probe" into the allegations as the two senior officers engaged in a bitter public spat.
In her report after visiting the central prison on July 10, Roopa said a special kitchen was functioning in the central prison here for Sasikala in violation of rules and requested Rao to look into the matter.