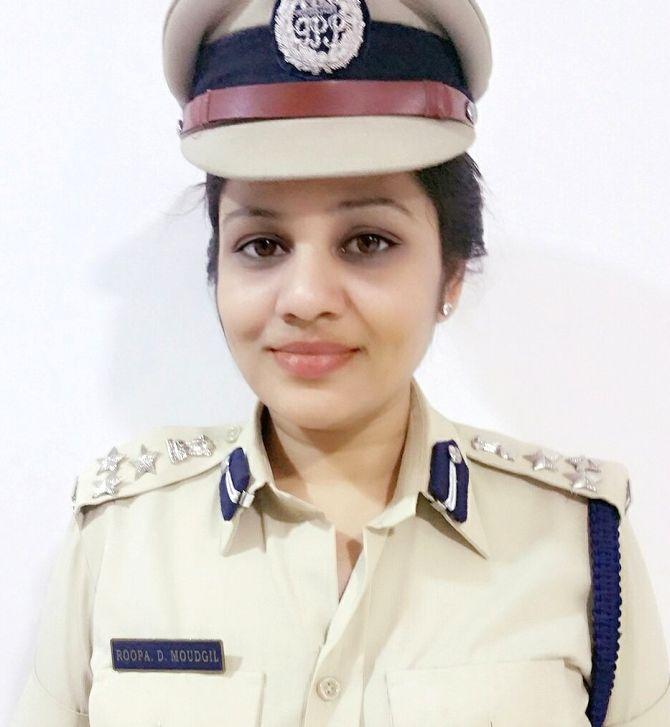 From leading the team that arrested Uma Bharti to exposing V K Sasikala's privileges in prison, the 42-year-old IPS officer is not scared of anything.
Nikita Puri reports.
In the past few days, Bengaluru's Parappana Agrahara Central Prison has seen some unusual activity: about 200 inmates fasting to protest against the transfer of a police officer. This loyalty comes as a surprise, especially since this officer, the Deputy Inspector General (Prisons) Roopa D Moudgil, or DIG Roopa as she's called, had taken charge only on June 21.
Moudgil, 42, has been transferred to the department of traffic and road safety. While the state government says this transfer is nothing out of the ordinary, it comes days after Moudgil exposed large-scale irregularities in the prison system.
These reportedly include drug abuse by inmates, and special treatment to Abdul Kareem Telgi of the fake stamp paper scam as well as All India Anna Dravida Munnetra Kazhagam's V K Sasikala's entitlements.
It is especially the report on Sasikala's VIP privileges that have captured headlines. Sasikala allegedly has five cells for herself, besides amenities like a separate kitchen and a flat-screen television.
It was not her intention to create such a stir, says Moudgil. "I really had no vested interests."
This is not the first time Moudgil's name has grabbed headlines. Earlier in March, when Mysuru-Kodagu MP Pratap Simha posted on social media about how four senior IPS officers were transferred out of the state, Moudgil said in a note addressed to him: politicisation of bureaucracy does not help the system and society in the long run.
In this social media post, Moudgil also talked about how the culture of having heroes, or super-cops, weakens the set-up. But with the stir that her actions have caused, Moudgil has unsuspectingly joined the "hero-cult" she opposes.

Most people are used to being politically correct, but Roopa can't be duplicitous. She just can't pretend to be okay with things if that's not how she feels

Her resistance to the idea doesn't alter facts, or the society's desire to have a "hero". In August 2004, when Uma Bharti was arrested on charges of inciting riots, Moudgil had led the team. She was also responsible for discontinuing extra escort vehicles used by former Karnataka chief minister, B S Yeddyurappa, and had called back orderlies placed in homes of 82 politicians.
"I was once scolded for this by my senior. He told me I didn't understand the sensitivity of the issue, but I had to withdraw those people and put them to better use," she says, adding how she's against what is commonly known as "VIP culture".
"Everyone believes that bureaucracy must run smoothly; these actions ruffle feathers. This is an aberration and those who do this become outcasts," she says.
During her short stint as DIG (prisons), Moudgil ensured that six inmates, who had been languishing without lawyers, were given access to free legal aid. She also enforced a system where new inmates would have compulsory health check-ups when they first came to prison.
When orders for her transfer came, Moudgil was in talks to introduce drug de-addiction programmes for inmates -- she believes it's her psychology degree that pushes her towards such reforms.
Moudgil's husband, Munish, an IAS officer, says she has always been straightforward. "Most people are used to being politically correct, but Roopa can't be duplicitous. She just can't pretend to be okay with things if that's not how she feels," he says.
Watching their mother on TV or seeing her pictured in newspapers draws no reaction from their two children, Anagha, 11, and Rushil, 8. "It's like ghar ki murgi daal barabar," says Moudgil.
Originally from Davangere in Karnataka, Moudgil is an accomplished Bharatanatyam dancer who formally studied Hindustani classical music a few years ago. In the early 1990s, Moudgil was also crowned Miss Davangere, twice. An award-winning sharpshooter, Moudgil was honoured with the President's Police Medal for meritorious service last year.
"She's really not scared of anything, except maybe cockroaches," says Munish, laughing. "Roopa has only become bolder with time. She is comfortable with who she is, and that has set her free."