With hopes in their eyes and written assurance from the Maharashtra government to meet their demands, thousands of farmers, who had gathered in Mumbai from all over the state, have gone back to their native places.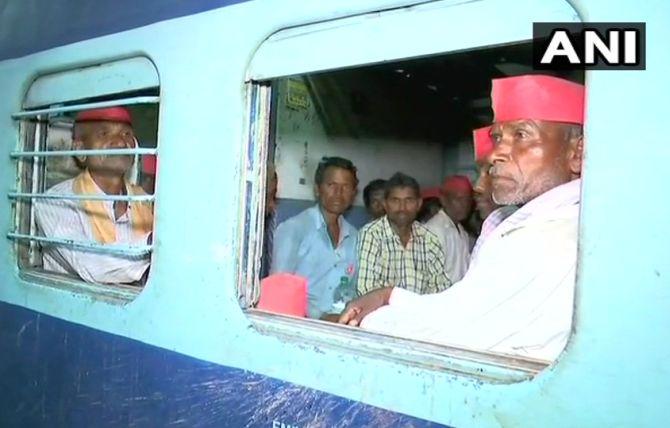 IMAGE: Farmers, who had come from all over the state, left Mumbai on Monday night after the government gave in to their demands. Photograph: ANI/Twitter
Under the banner of the Akhil Bhartiya Kisan Sabha of the Communist Party of India-Marxist, over 35,000 farmers trekked 180km from Nashik over six days under the blazing sun, some even barefooted, with a slew of demands which included their right to till forest land and a complete loan waiver.
The farmers called off their agitation on Monday after the Bharatiya Janata Party-led government announced it has accepted "almost all" of their demands in writing and assured to implement them in a time-bound manner.
The protesters, mostly farmers and tribals, had taken their agitation to Mumbai where they gathered at Azad Maidan on Monday.
They hailed from Nashik, Ahmednagar district, Thane, Raigad districts and other parts of the state.
The agitators left for home by various modes of transport, a senior police official said, adding two trains were arranged by the government to ferry them back.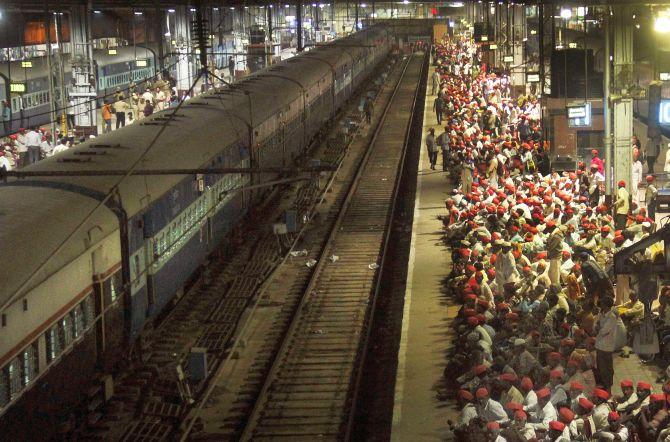 IMAGE: Special trains were arranged for the farmers to go back to their homes after they walked to Mumbai for six days, traversing 30 kilometre each day. Photograph: PTI Photo
Farmers and tribals from Nashik district boarded the special trains arranged by the government, Ashok Dhawale, AIKS president and a member of the CPI-M Central Committee, said.
All farmers bought tickets and boarded the trains as it was not fair to take any favour from the government, he said.
"When our march reached Somaiya Ground in Sion on the night of March 11, the government was ready to provide us 100 civic buses to take us to south Mumbai. But, we declined to take any favour that day too," Dhawale said.
"We decided to march past midnight because we did not want to cause any inconvenience to Mumbaikars and students who were having their Class X and Class XII exams," he said.
Dhawale said the farmers were happy with whatever they got from the government.
"We won the battle, but the war is still on. We are going to see at the ground level how the government is going to implement the written assurance given to us.
"Smiles have returned on the faces of farmers and adivasis as their long-pending issues and demands are going to be sorted out," he said.