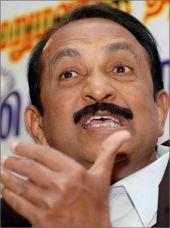 Marumalarchi Dravida Munnetra Kazhagam leader Vaiko was arrested in Neyveli, Tamil Nadu, when he and party workers tried to picket the Neyveli Lignite Corporation office, demanding that the public sector unit stop power supply to Karnataka, which has stopped release of Cauvery water to Tamil Nadu.
Police said Vaiko and about 1000 party workers took out a procession and were arrested while on their way to the NLC office.
Speaking to reporters later, Vaiko slammed Karnataka for not releasing the required quantum of Cauvery water to Tamil Nadu as per the September 19 directive of the Cauvery River Authority, which was upheld by the Supreme Court.
"The Union government has not taken proper action against Karnatka," he said.
Karnataka had said it would not accept the Cauvery Monitoring Committee's decision yesterday that Tamil Nadu should get 8.85 tmc of water between October 16 and 31.
The "award" of the Committee is based on findings of a central team that visited Karnataka and Tamil Nadu last week.
In September, the CRA, chaired by Prime Minister Manmohan Singh, had directed Karnataka to release 9,000 cusecs of water daily to Tamil Nadu between September 20 and October 15.
Karnataka has urged the prime minister to review by October 12 the order of the CRA.