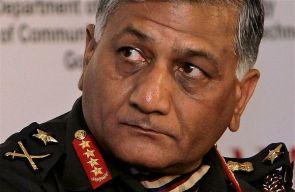 Former army chief V K Singh, who did not turn up before a Jammu and Kashmir Legislative Council privileges committee on Thursday, will appear before it on January 22, complying with fresh summons issued in connection with his alleged remarks against leaders from the state.
J-K Legislative Council Chairman Amrit Malhotra on Friday said he had received a call from Singh's advocate on Thursday, informing him that he was in Tamil Nadu and would appear in person before the Privileges Committee on the next date of summons.
"He will appear before the panel on January 22 in person," Malhotra said.
Gen Singh had been summoned last year to appear before the Privileges Committee on January 9 to explain his position on his allegations that politicians in the state were paid by the Army.
After he failed to appear before the Committee, the panel had issued summons to him through the Haryana DGP to appear before it on January 22.
Meanwhile, Malhotra said the charge that the Legislative Council staff had refused to accept a letter written by the former Army Chief in reply to his summons would be probed.
"The issue would be probed. It is viewed seriously. How can anybody of our staff refuse to accept any letter sent to the Council office? And for that matter, it was Gen Singh's reply letter to his summon," the Chairman told PTI.
"It will also be probed on whose direction the staff has refused to take letter of Gen Singh," Malhotra said when asked about media reports on the statement of former Army Chief's aide that Gen Singh had written to the Privileges Committee, which had not accepted his reply and asked him to appear before it in person.
Those responsible for refusing to take the reply would be punished, he said, adding that the action amounted to dereliction of duty.
The privilege motion against Gen Singh was moved by MLCs Ajay Sadhotra, Rana and Khalid Najeeb Suhrawardy in the last session of the Council, taking cognisance of his allegations during a interview in which he had claimed that Army was paying money to politicians in Jammu and Kashmir.