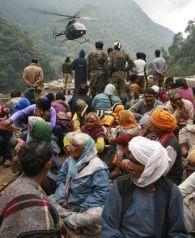 With weather clearing up, relief operations on Sunday gained momentum in Uttarakhand as the government came out with a roadmap for clearing tonnes of debris and extricating bodies in Kedarnath and adjoining areas ravaged by flash floods over a month ago.
Nearly 8,000 quintals of food material were carried to Rudraprayag, Chamoli, Uttarkashi and Pithoragarh districts by choppers and mules even as major roads remained blocked by debris from the hills amid intermittent rains.
Rishikesh-Gangotri National Highway (NH) in Uttarkashi is blocked by debris in Netala while Rishikesh-KedarnathNH is obstructed in Naulapani, Silli and Rampur, officials said.
As authorities struggle to bring back life on track, the BRO have succeeded in building a temporary bridge over the Alaknanda near Govindghat to evacuate over 1,000 horses and mules stuck along with their operators in Phoolon ki ghati area ever since the bridge over the river was swept away in the flash floods.
Tilwada-Mayali-Guptkashi and Gopeshwar-Chopta roads in Rudraprayag district are also blocked for the last few days.
A roadmap for clearing tonnes of debris lying in Kedarghati and extricating bodies was worked out at a meeting of GSI experts, Engineering Projects (India) Limited (EPIL) top brass and IAF officials with Chief Secretary Subhash Kumar and DGP Satyavrat Bansal on Saturday.
It was decided that the services of EPIL will be taken to carry out the massive exercise hampered so far by bad weather and lack of heavy equipment, officials said.
A team of EPIL and GSI experts will soon conduct an aerial recce of Kedarghati to explore how a base camp and a helipad could be built at the Himalayan shrine to allow IAF's MI-26 helicopters to transport heavy equipment needed to clear the huge quantity of rubble lying on the 8th century temple premises.
EPIL, which has a 500-strong team with expertise in debris removal, was roped in by the state government to undertake the mammoth exercise after its own teams consisting of medical experts, police, PWD and NDRF personnel did not make much headway despite being stationed there for nearly a fortnight.
As per the roadmap, EPIL will scientifically carry out the exercise at the shrine which bore the brunt.
It is a major challenge considering the huge quantity of debris containing big boulders lying at Kedarnath, Gaurikund and Rambada but with scientific expertise provided by the GSI and ASI, the operation is likely to be carried out successfully by EPIL personnel, Chief Secretary Subhash Kumar said.
Officials from the civil administration and police personnel will also assist in the exercise which also entails razing to the ground 48 badly damaged structures in Kedar valley, he said.
Heavy equipment like dozers, dumpers and rock breakers loaded in trucks have been dispatched from Delhi for the purpose, EPIL CMD SPS Bakshi, who attended the meeting, said.
The heavy mechanical equipment will be dismantled on their arrival and transported in MI-26 choppers to Kedarnath where they will be reassembled before being put into service, he said.