United States President-elect Donald Trump dropped enough hints on Sunday that he meant business when in an interview to CBS News he reiterated his commitment to building a wall on the Mexican border and deporting illegal immigrants.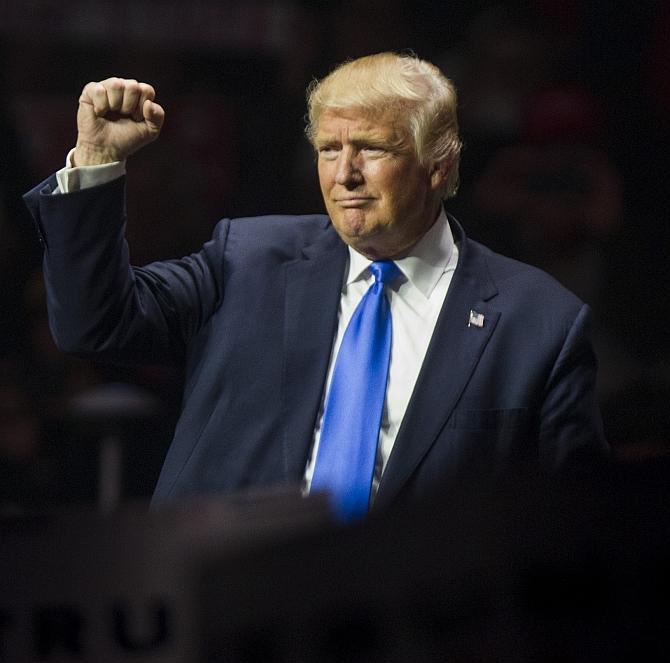 Speaking to CBS News' Lesley Stahl at the Trump Tower in the interview that was aired on Sunday evening, Trump said: "What we are going to do is get the people that are criminal and have criminal records, gang members, drug dealers -- we have a lot of these people, probably two million, it could be even three million -- we are getting them out of our country or we are going to incarcerate. But we are getting them out of our country, they are here illegally."
"After the border is secured and after everything gets normalised, we are going to make a determination on the people that you are talking about who are terrific people, they are terrific people but we are gonna make a determination at that -- But before we make that determination -- Lesley, it is very important, we want to secure our border."
---
The Wall
The President-elect said though he still plans to build a wall, he would accept a fence for some areas.
"For certain areas I would, but certain areas, a wall is more appropriate," Trump said. "I am very good at this, it is called construction."
Trump had campaigned on a vow to build a wall and make Mexico pay for it. He also had insisted he will deport all 11 million people in the country illegally, with exceptions.
---
Social Media
Trump plans on keeping his infamous Twitter account going, though he says he will be "very restrained, if I use it all." He went on to credit the popular social media site with his recent victory.
He said: "It is a great form of communication. Now, do I say I will give it up entirely and throw out, that is a tremendous form -- I pick up -- I am picking up now, I think I picked up 100,000 people yesterday. I am not saying I love it, but it does get the word out."
"I am going to do very restrained, if I use it at all, I am going to do very restrained. I find it tremendous. It is a modern form of communication. There should be nothing you should be ashamed of. I do believe this, I really believe that, the fact that I have such power in terms of numbers with Facebook, Twitter, Instagram, et cetera, I think it helped me win all of these races where they are spending much more money than I spent. You know, I spent my money. A lot of my money. And I won. I think that social media has more power than the money they spent, and I think maybe to a certain extent, I proved that."
---
No salary and no vacation!
The President-elect said he would take $1 as his salary a year and not the $400,000 that comes with the US president's job and will refrain from going on any vacation.
"No, I'm not gonna take the salary. I'm not taking it," confirming a promise he made in a campaign video in September.
"I think I have to by law take $1, so I will take $1 a year. But I don't even know what it is," Trump said.
Trump also said he would not take any vacation.
"We have so much work. There's so much work to be done. And I want to get it done for the people," he said.
"I want to get it done. We're lowering taxes, we're taking care of health care. I mean, there's just so much to be done. So I don't think we'll be very big on vacations, no," Trump said, ruling out a vacation for himself.
---
Racial hatred, violence post Trump win
Trump directly addressed Americans harassing people of different religions, races and sexualities following his victory.
"I hate to hear that, I am so saddened to hear that and I say, stop it. If it helps, I will say it right to the cameras: 'Stop it'."
He also asked left-wing demonstrators not to fear his presidency.
"I would tell them, 'don't be afraid', absolutely," he said, adding, "We are going to bring our country back but certainly, don't be afraid. We just had an election and you have to give it a little time."
The president-elect said some sections of the society are scared about him because they do not know him. He asked them not to be afraid.
"That's only because they don't know me," he said.
"What do you think they are demonstrating against?" he was asked.
"I think in some cases, you have professional protesters," he said, referring to mentions about it in Wikileaks.
"I mean, people are protesting. If Hillary had won and if my people went out and protested, everybody would say, 'Oh, that's a terrible thing'. And it would have been a much different attitude. There is a different attitude. You know, there is a double standard here," Trump said.
---
'Obama is terrific, has great sense of humour'
Terming outgoing US President Barack Obama as "terrific" who has a "great sense of humour", President-elect Donald Trump said they did not talk about the bitterness of the recently-concluded election campaign during their meeting but discussed some tough subjects.
"I found him to be terrific. I found him to be very smart and very nice. Great sense of humour, as much as you can have a sense of humour talking about tough subjects, but we were talking about some pretty tough subjects. We were talking about some victories, also. Some things that he feels very good about. This was just going to be a quick little chat (their interaction at the White House) and it lasted close to an hour and a half. It could have gone on for four hours. I mean, it was in fact, it was almost hard breaking it up because we had so many things to say. He told me the good things and the bad things."
"I wanted to get his full view. I got a good part of his view. And I like having that because I'm going to be inheriting that in a short period of time," he said.
---
'I think I'm a sober person'
Trump called himself a sober person and said this is how he looked inside the Oval Office.
"I think I'm a sober person. I think the press tries to make you into something a little bit different. In my case, a little bit of a wild man. I'm not. I'm actually not. I'm a very sober person. But it was respect for the office. It was respect for the president. I never met him before, but we had a very good chemistry going. It might not be that I agree with him, but I really found the conversation unbelievably interesting," Trump said when asked about his meeting with Obama.
The President-elect added that he never had an awkward moment during the meeting.
"We never discussed what was said about each other. I said terrible things about him. He said terrible things about me. We never ever discussed what we said about each other," he said.
Photograph: Getty Images