With Ro Khanna defeating eight-term incumbent Mike Honda, for the first time in history the Indian Diaspora has three of its own in the US Congress.
Ritu Jha reports from California.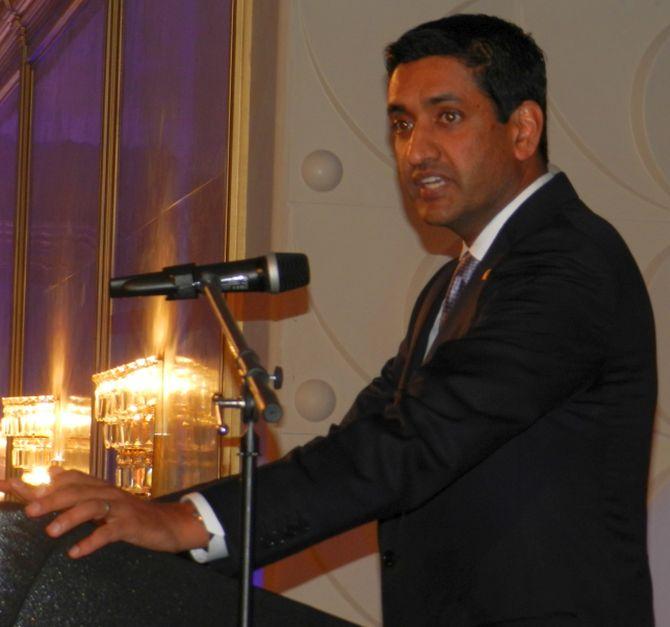 IMAGE: As a former deputy assistant secretary in the US Department of Commerce under President Barack Obama and for his work as a vice president of Strategic Initiatives at Smart Utility Systems, Ro Khanna is admired by Silicon Valley companies. Photograph: Ritu Jha
Just like the last time Fremont-based attorney Ro Khanna, 40, a Democrat, challenged United States Congressman Mike Honda, also a Democrat, in District 17 of California theirs was one of the most heated Congressional races in the country. What was different this time was that the challenger leaped ahead of the eight-term incumbent.
Khanna won 59.8 percent (85,311) of the votes while Honda secured 40.2 percent (57,378).
Khanna's win puts three Indian Americans in the US Congress, a huge leap for a community that has had only three of its own -- always one at a time -- in the Congress since it first arrived on American shores.
If Representative Ami Bera retains his seat in the Congress, the tally will go up to a historic four Indian Americans in the US Congress.
Khanna held a victory party on the night of November 8 at the Royal Palace Banquets in Fremont.
He extended his friendship and respect to Honda, saying, "I acknowledged tonight Congressman Mike Honda long career in public service."
Then pointing to himself and his parents, Khanna said, "They must have never imagined it, when they took the oath of citizenship that a son of a school teacher (his mother) and an engineer (father) who came to this country with no money is going to represent the top economic district in the world. They raised us to believe that in America anything is possible."
Soon after his victory speech, Khanna -- surrounded by supporters -- spoke to Rediff.com. "My first job now is to bring the country together after a very, very decisive campaign," he said. "I think we have to find a common ground in this country."
Among Khanna's supporters at the party were his parents, his wife and in-laws.
"I am proud of him," Khanna's mother Jyotsna told Rediff.com. "He worked very hard. I think he will continue working very hard for this district."
His mother-in-law Usha Ahuja said, "We are really very happy for Ro. He is a very ambitious young man, and he will be very good for the country."
His father-in-law Monte Ahuja, chairman and CEO, MURA Holdings LLC, added, "We are very privileged and excited to see our son-in-law be a US Congressman. We are really, really thrilled. It's a great honour to have one of our own serve this country."
Though he had lost to Honda, an icon in the Asian-American community in 2014, Khanna was confident from the start that he would win comfortably this time.
"We are in great shape to win this time," he had told us earlier. "Honda is done. Everyone knows it. The ongoing ethics scandal has crippled his candidacy and any hope of re-election. Most of the local endorsers are switching… He's barely trying because even he sees the writing on the wall and most of his money is going into his legal defence."
He had said, "We are not just going to win, but win decisively."
Khanna went on to defeat Honda in the primary, but as per California's election rules the top two candidates -- regardless of the party, and no Republican made the cut -- went to the general elections November 8.
The campaign races turned nastier in September when Honda filed a lawsuit against Khanna, his firm Ro For Congress, Inc, and his campaign manager Brian Parvizshahi, alleging that they had accessed confidential and proprietary documents related to the Congressman's election campaign, which is a violation of federal law.
"All this is baseless. He is doing all this because he thinks he has lost," Khanna had said. "There is evidence that the lawsuit is very flimsy. I think there should be sanctions against lawyers for this lawsuit. I thought this was his dirty tricks again. But I didn't think he would be stupid and commit perjury… I think this is very dangerous for him. I think he has really broken more rules."
He had added, "Last cycle he put a 'dot' on my forehead, saying I would ship jobs overseas. This time, he has resorted to the lawsuit and likely perjuring himself. He is desperate and doesn't realize his days are done. This is killing his own legacy."
The rivals, however, arrived at a settlement before the preliminary injunction hearing.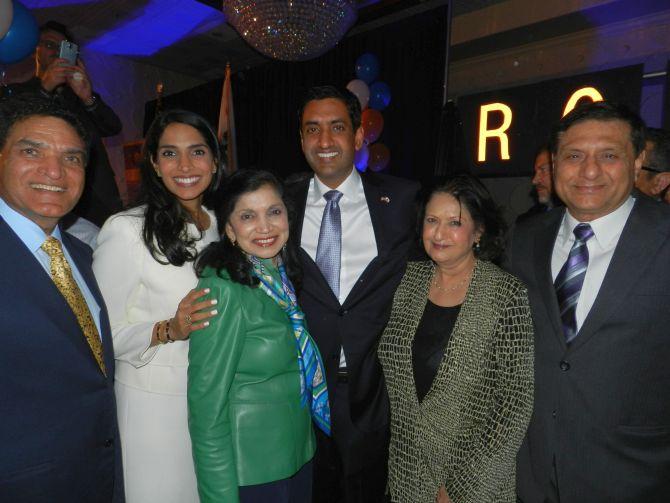 IMAGE: Ro Khanna at his victory party last night with his family. On the right are his parents Jyotsna and Vijay Khanna. From the left are his father-in-law Monte Ahuja, wife Ritu and mother-in-law Usha. Photograph: Ritu Jha
Till the end, the Indian-American community remained split almost in the middle in their support for Khanna and Honda.
Venture capitalist Kamil Hasan, general partner, Granite Hill Capital Partners, LLC, said that Khanna had impressed him when he first ran against Tom Lantos, a Democratic from California's 12th congressional district. That was about 10 years ago.
"Though Khanna lost, I was impressed by his passion, his idealism and by his hard work," he said. "I know he will win this time. We need a candidate like him. With the deadlock in Congress in Washington, DC, we need someone like Ro, who is young and dynamic and very hardworking. Who understand the issues very well, who can do a great job for the Silicon Valley as well as for the Indian-American community."
Hasan said he had supported Honda in the past, but now felt that he had been a Congressman for too long: "I think he has lost his effectiveness… We need a young dynamic leader who has a vision for the country going forward."
Longtime Democratic Party activist and fund-raiser Shekar Narasimhan, founder and chairman of the first ever Asian American Super PAC, the AAPI (Asian American and Pacific Islander) Victory Fund, like many Indian Americans, however, remained solidly in Honda's corner, saying, "I've known Mike Honda for years and I have supported him."
But, he added, "I am also very much in favour of Indian-Americans running and in that race, I am still going to say, it's better for that district and for the country, if Mike Honda were to win. But, I will say that Ro has run helluva race and let the California voters and Silicon Valley decide this election."
At Khanna's victory party, Hasan told Rediff.com, "I am just so happy I just cannot express my happiness. I have been working with Ro for the last 10 years supporting him. It was like one of the biggest projects. I am really so happy that finally this is happening. It's a major achievement for our community and the Silicon Valley.