Donald Trump may not live in the White House full-time after assuming the US Presidency in January and is discussing with his advisers about splitting his time between Washington and his penthouse apartment in Manhattan, a media report said.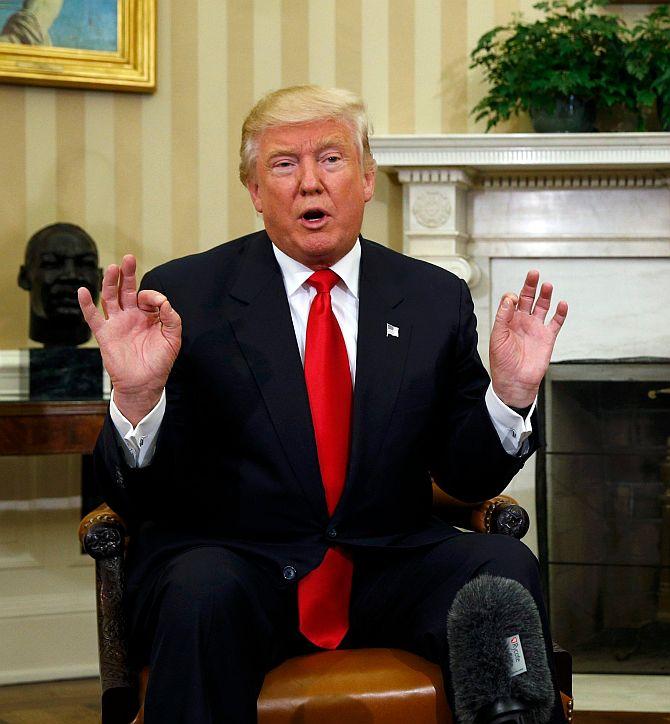 Trump advisers say the President-elect was "shocked" when he won the election, according to a report in the New York Times and is now contemplating how many days a week he will have to stay in the White House since he is extremely fond of his sprawling and luxurious penthouse apartment, decorated in 24-karat gold and expensive marble, in Trump Tower on the posh Fifth Avenue in Manhattan.
"Trump, a homebody who often flew several hours late at night during the campaign so he could wake up in his own bed in Trump Tower, is talking with his advisers about how many nights a week he will spend in the White House. He has told them he would like to do what he is used to, which is spending time in New York when he can," a report in the New York Times said.
While the future first lady Melania Trump is expected to move to Washington, the couple's 10-year-old son Barron is midway through a school year here and it is unclear when the move would happen.
The NYT report said questions about how Trump would divide his time between New York and Washington reflect Trump coming to grips with the fact that his life is about to change radically.
Trump's advisers say he might spend most of the week in Washington, much like members of Congress, and return to Trump Tower or his golf course in New Jersey or his Mar-a-Lago estate in Palm Beach on weekends.
The report added that returning home to Trump Tower from the White House may not be Trump's only embrace of the familiar. His aides have said he has also expressed interest in continuing to hold the large rallies that were a staple of his candidacy.
"He likes the instant gratification and adulation that the cheering crowds provide, and his aides are discussing how they might accommodate his demand," it said.
The report added that Trump's advisers hold out the possibility that the president-elect may spend more time in the White House as he grows less overwhelmed and more comfortable in the job.
The real estate billionaire has spent most of the last three decades "cosseted" within Trump Tower, an empowering high-rise where his apartment is on the 58th floor, and a designated elevator takes him from there to his office on the 26th floor.
The report added that Trump wakes at 5 most mornings, reads The New York Post, The New York Times and a handful of other newspapers, and tunes into the morning television news shows.
Trump's affection for his penthouse apartment runs deep as his biographer, Michael D'Antonio, learned when he invited him inside the three-story unit in 2014 for an extended interview.
Trump has described the apartment less as a home than a tribute to his own self-image.
"I really wanted to see if it could be done," Trump has said as he showed D'Antonio around the apartment. "This is a very complex unit. Building this unit, if you look at the columns and the carvings, this building, this unit was harder than building the building itself."