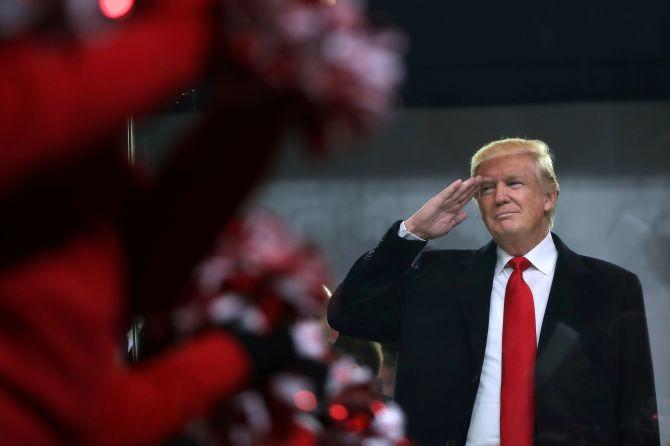 The United States Interior Department was ordered to shut down its official Twitter accounts indefinitely after the National Park Service, that manages all national parks in the country, shared tweets about low turnout during President Donald Trump's inauguration ceremony.
The first tweet noted the new president's relatively small inaugural crowd compared to the number of people former president Barack Obama drew to the National Mall when he was sworn into office in 2009.
The second tweet noted several omissions of policy areas on the new White House website. A Park Service employee re-tweeted both missives on Friday, the Washington Post reported.
'All bureaus and the department have been directed by incoming administration to shut down Twitter platforms immediately until further notice,' said an email circulated to Park Service employees.
The email described the stand-down as an 'urgent directive' and said social media managers must shut down the accounts 'until further directed', the Post reported.
Interior department has dozens of official Twitter accounts at its multiple offices and 10 bureaus, which include the Park Service, US Fish and Wildlife Service and US Geological Survey.
As Trump's inauguration ceremony got underway on Friday, a Park Service employee involved in social media officially re-tweeted a tweet from New York Times reporter Binyamin Appelbaum (@BCAppelbaum) that pictured the crowd at Obama's inauguration next to gathering on the Mall.
'Compare the crowds: 2009 inauguration at left, 2017 inauguration at right,' Appelbaum wrote.
The Park Service Twitter account then shared a second tweet from someone else with a message about climate change, civil rights and healthcare issues being removed from the Obama White House website.
A government official familiar with the stand-down said the agency is investigating whether the re-tweets were purposeful, 'errant' or 'whether we've been hacked'.
"They were not reflective of Park Service policy," said the official, who requested anonymity because of the sensitive nature of the directive.
National Park Service spokesman Thomas Crosson declined to comment on the tweeting ban. But he said that it is against Park Service policy to estimate the size of crowds at events, because they are often inaccurate.
"Due to the difficulty in accurately assessing crowd estimates for large events, most notably following 1995's Million Man March, the National Park Service no longer makes it a practice to provide crowd estimates for permitted events," Crosson said.
"While we make internal estimates for staffing, security and emergency response purposes, it is left to the discretion of event organisers to make a determination of the event attendance," he said.
IMAGE: US President Donald Trump salutes participants during the inaugural parade in Washington. Photograph: Carlos Barria/Reuters