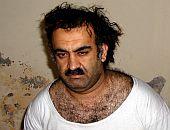 The Barack Obama administration has not taken any decision on the new venue of the trial of Khalid Sheikh Mohammed, the master-mind of the 9/11 terror attacks, the White House has said.
White House Press Secretary Robert Gibbs said it would take quite some time before a decision in this regard is taken by the Obama administration; whose plan to try the 9/11 mastermind in a New York court had to be scuttled due to strong opposition from the New York Mayor and lawmakers from the State.
"I don't expect a decision on that for several or many weeks," Gibbs told media persons at his daily press briefing on Tuesday in response to a question.
"The (US) President obviously has gotten involved because Congress has actively been involved in venue options for any trial involving Khalid Sheikh Mohammed. The President's obviously strong equity in this is seeing that after many long years that justice is brought," Gibbs said.
Meanwhile, The Wall Street Journal reported that the Obama Administration is now favourably considering trial of Khalid Sheikh Mohammed in a military court rather than a civilian one as was announced earlier.
'White House officials said they were now leaning toward a military trial for Khalid Sheikh Mohammed and other defendants as part of an effort to make a deal with lawmakers. The aim is to save the administration's broader goal of allowing the Justice Department to try other terror suspects in civilian courts and shutting down the Guantanamo Bay prison,' The Wall Street Journal said.
The daily said White House officials are negotiating a deal with Senator Lindsey Graham to win support for helping to close Guantanamo.
Graham has said that military trials for the alleged 9/ 11 mastermind and the others are a condition for his support.

"But such a deal still holds risks for the administration, because even with Graham's vote there are doubts about winning support from several Democrats, administration officials and congressional aides say," it said.