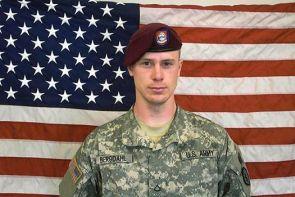 Sergeant Bowe Bergdahl, the United States soldier who was last year swapped with five Taliban prisoners in a controversial prisoner exchange, will face a court martial of the 'highest level' on charges of desertion and endangering fellow soldiers, the US Army said on Tuesday.
If convicted, Bergdahl could face life imprisonment for 'misbehavior before the enemy by endangering the safety of a command, unit or place', according to reports in the US media.
General Robert Abrams, the commander of US Army Forces Command, ordered the court-martial, rejecting the demand of the officer overseeing Bergdahl's preliminary hearing that his case be referred to a special court-martial and he should face no jail time, reported CNN.
Bergdahl is charged with abandoning his post in Afghanistan in June 2009 before he was captured by Taliban insurgents, who held him for nearly five years.
Six US soldiers lost their lives in the following missions which were partly aimed at finding the whereabouts of Bergdahl.
In May 2014, the US released five Taliban detainees from Guantanamo Bay in return for Bergdahl.
A report of the Senate Armed Services Committee later accused the Obama administration of 'misleading the Congress and violating federal law' during the controversial prisoner exchange.
Bergdahl's lawyer, Eugene Fidell, slammed the decision in a statement and said that he 'had hoped the case would not go in this direction'.
In October, Lieutenant Colonel Mark Visger, the Army investigator who led the preliminary hearing into the charges against Bergdahl, recommended against Bergdahl facing any jail term.
Also, Major General Kenneth Dahl, who led the investigation into Bergdahl's actions in Afghanistan, testified in September that jail time would be 'inappropriate' and said he did not find 'any evidence to conclude that Bergdahl was sympathetic to the Taliban'.