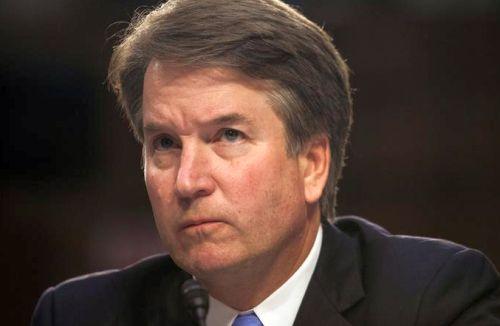 United States President Donald Trump's Supreme Court nominee Brett Kavanaugh on Monday rejected as "completely false" the sexual assault allegation levelled against him by a woman, saying he was ready to testify before a Senate committee to "defend my integrity".
Kavanaugh's nomination plunged into chaos after Christine Blasey Ford on Sunday told 'The Washington Post' that she was subjected to a sexual assault by the Supreme Court nominee in high school in the early 1980s.
In the interview, Ford alleged that a drunk Kavanaugh pinned her to a bed at a party and forced himself on her.
He "groped her over her clothes, grinding his body against hers and clumsily attempting to pull off her one-piece bathing suit and the clothing she wore over it," said the 51-year-old clinical psychologist at Palo Alto University in California.
Kavanaugh, 53, has denied the allegation and said it never happened.
"This is a completely false allegation. I have never done anything like what the accuser describes -- to her or to anyone," Kavanaugh said.
"Because this never happened, I had no idea who was making this accusation until she identified herself yesterday," he said in his first response to the allegation that could jeopardise his nomination.
"I am willing to talk to the Senate Judiciary Committee in any way the Committee deems appropriate to refute this false allegation, from 36 years ago, and defend my integrity," Kavanaugh said.
The White House has said that it stands by Kavanaugh.
Kavanaugh has "categorically and unequivocally" denied the allegations, the White House said in a statement.
It also said that Ford should testify on oath before a Senate Committee.
"This woman should not be insulted and should not be ignored," White House counselor Kellyanne Conway told Fox News in an interview.
Dabra Katz, attorney for Ford, told another news channel that she was willing to testify before a Senate panel and to tell her story in public.
"The answer is yes", Katz told CNN when asked if she was willing to testify before the Senate Judiciary Committee, adding that no one has asked her so far about it.
Kavanaugh attended a private school for boys in Maryland while Ford attended a nearby school.
The Senate Judiciary Committee is scheduled to vote on nomination of Kavanaugh on Thursday.
This new development, combined with two key Republicans calling to pause the confirmation process in light of Ford's accusation and willingness to come forward, signals peril for Kavanaugh's nomination that was unthinkable a week ago.
On Sunday, Senate minority leader Chuck Schumer called on Republicans to "postpone the vote until, at a very minimum, these serious and credible allegations are thoroughly investigated".
Republicans hold a 51-49 majority in the Senate. Two Republican defections, along with unanimous opposition from the Democratic caucus, would sink Kavanaugh.