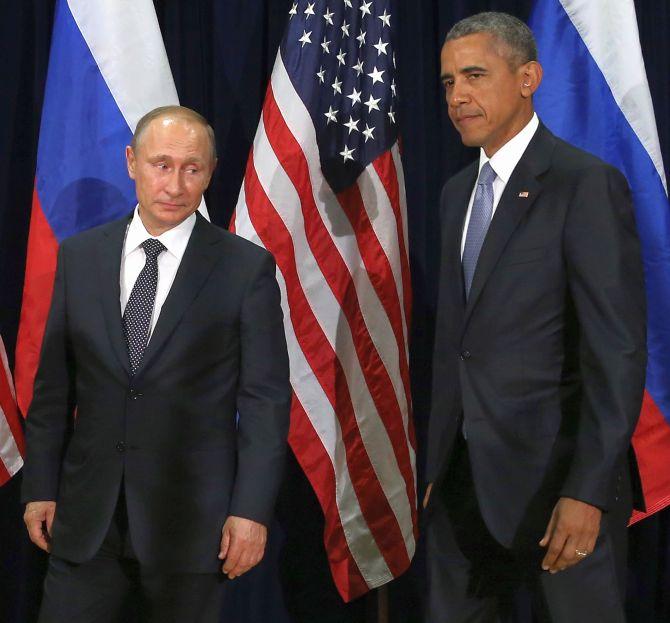 United States President Obama launched a Cold War strike on Russia and its spies on Thursday, accusing them of hacking the presidential election on orders from Vladimir Putin.
He ordered 35 Russian intelligence operatives to leave the country as part of sanctions ordered for what he said where the country's attempts to 'interfere with democratic governance' and harassment of U.S. diplomatic officials in Russia.
This is the first time the names of Russian officials involved in the hacking have become public on the sanctions list.
"Russia's cyberactivities were intended to influence the election, erode faith in US democratic institutions, sow doubt about the integrity of our electoral process, and undermine confidence in the institutions of the US government," a White House statement said. "These actions are unacceptable and will not be tolerated."
The US also separately sanctioned two Russian individuals, Evgeniy Mikhailovich Bogachev and Alexey Belan, for using cyber-enabled means to allegedly cause misappropriation of funds and personal identifying information. They've long been sought by the Federal Bureau of Investigation.
Obama also said in the statement announcing that the diplomats have been ordered to leave the country and that those individuals and their families were given 72 hours to leave the United States.
"These actions follow repeated private and public warnings that we have issued to the Russian government, and are a necessary and appropriate response to efforts to harm US interests in violation of established international norms of behaviour," Obama said in the statement.
The US action has prompted an angry response from the Kremlin which promised an 'appropriate' retaliation -- while its London embassy tweeted a picture mocking him as a 'lame duck'.
Russian foreign ministry spokeswoman Maria Zakharova said similar steps will be taken in response to the expulsions, though she did not immediately provide further details.
Dmitri Peskov, a spokesman for Russian President Vladimir Putin, told reporters there is "no alternative to reciprocal measures," adding that Putin is "in no rush to make a decision."
Russia's first visible action came later, when Russian authorities ordered the closure of the Anglo-American School of Moscow, a US official briefed on the matter said.
The order from the Russian government closes the school, which serves children of US, British and Canadian embassy personnel, to US and foreign nationals. The order also closes access to the US embassy vacation house in Serebryany Bor, near Moscow.
Donald Trump, the US president-elect took hours to react. "It's time for our country to move on to bigger and better things," he said in a statement.
"Nevertheless, in the interest of our country and its great people, I will meet with leaders of the intelligence community next week in order to be updated on the facts of this situation."
The sanctions came after the Democratic Party and Hillary Clinton's secrets were published, mostly by WikiLeaks, in a series of releases before Hillary Clinton's election defeat.
Photograph: Chip Somodevilla/Getty Images