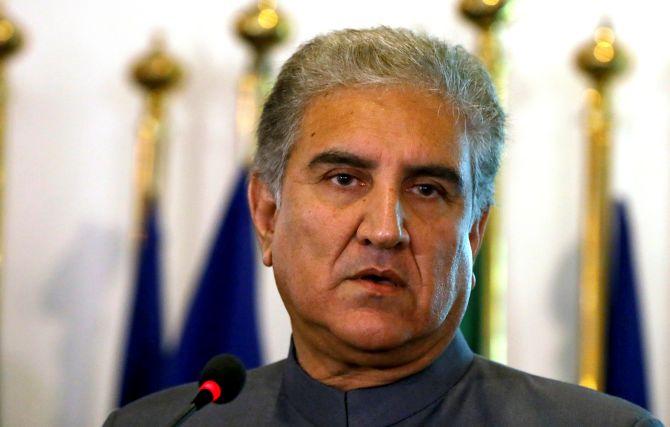 The United States has rejected Pakistan's plea to facilitate talks with India and pressed for the bilateral engagement between the two South Asian neighbours, Foreign Minister Shah Mahmood Qureshi has said.
Pakistan wants the US to facilitate talks with India as the two nations are not engaging bilaterally, the top Pakistani diplomat told a Washington audience on Wednesday.
"When we asked the US, to play facilitating role...Why do we ask? Simply because we are not engaging bilaterally. And that bilateral disengagement is…a distraction," Qureshi said in response to a question at the US Institute of Peace, a US Congress-funded top American think-tank.
"We want to focus, we want to move on the western side of the border, which we are not being able to because we have to watch our back from eastern side (of the border with India). That is not a healthy situation to be in," he said.
"Now can you (United States) facilitate (the talks)? The answer from them is no. They wanted bilaterally. But there is no bilateral movement," Qureshi said, a day after he had meetings with Secretary of State Mike Pompeo and National Security Advisor John Bolton, during which he raised the issue only to be pushed back by the Trump administration.
India is opposed to any third country mediation in its relations with Pakistan. Pakistan has continuously sought mediation to sort out the differences, including over Kashmir.
Qureshi warned that the absence of bilateral talks with India could lead to escalation of tension between the two countries.
"If that lack of facilitation leads to escalation and some of the statements that have come out of late have not been very helpful," the Pakistani foreign minister said in an apparent reference to the remarks by Indian leaders.
The new government of Prime Minister Imran Khan, he claimed, is not shy of engaging.
Referring to the cancelling of his meeting with External Affairs Minister Sushma Swaraj in New York last month, he alleged that India backed off.
However, he quickly skipped India's reasons for this – glorification of terrorists by issuing postal stamps and brutal killing of the Indian security personnel.
"If the Indians have a better option, share it with us. If disengagement, if not talking to each other will resolve and stabilise the region, fine. If that's their analysis fine," Qureshi said.
Qureshi, who left for Pakistan after his meetings with the Trump administration officials, said it is unfortunate that the two countries are not engaging.
"It's unfortunate. That's the way it is. Now. What does this government want? We want normalisation. We want co-existence. You've got to recognise the reality. Pakistan is a reality. So is India. We have issues. How do we resolve them?" he asked.
After coming to power, the first speech made by the Prime Minister Khan was "that every step you (India) take towards peace, we will take two. And he meant it. It wasn't just because it sounded good. It wasn't to please anyone. He is too blunt a person to please people. He can be very straight and he can be very blunt. But he said that because he feels that way," Qureshi said.
India has said that Pakistan created the conditions for cancellation of the talks – due to issuing of postage stamps glorifying terrorists and brutal killing of its three security personnel.
The Pakistan foreign minister did not mention that in his answer and only said that the stalled dialogue process is not good for the two countries and the region.
Responding to a question on India's stand that talks and terrorism cannot go together, a view which is shared by Washington too, Qureshi referred to a statement by Khan while he was an opposition leader and met Prime Minister Narendra Modi during a trip to New Delhi that there would always be spoilers.
"There will always be spoilers. There will always be elements that will scuttle the process of peace. But when they do that, let re-engage to fight them. They will push us back. But we have to see what is in our interest, what is in the regional interest. What's in Pakistan's interest," Qureshi said quoting what Khan had told Modi.
Soon, he raised the Kashmir issue.
"They have to realise, and I think they were being simplistic, if they feel that everything that's wrong on the Indian side of Kashmir is all of Pakistan's making, that is an unrealistic approach," he said.
India, he said, should also revisit its policies and see why and how people have been alienated.
'Pak minister should have been more sensitive in sharing dais with Hafiz Saeed'
Pakistan Cabinet minister Noor-Ul-Haq Qadri 'should have been more sensitive' while sharing the dais with 2008 Mumbai attack mastermind Hafiz Saeed, Qureshi said as he promised to ask his ministerial colleague for an explanation.
Qadri, the Minister for Religious Affairs and Interfaith Harmony, was seen seated near banned Lashkar-e-Tayiba (LeT) founder Saeed as he addressed an All Parties Conference organised by the Difa-e-Pakistan Council -- a coalition of over 40 political and religious parties -- on Sunday in Islamabad.
A banner in the background said the conference was in 'defence of Pakistan', and mentioned 'Kashmir' as well as 'threats from India'.
"I will go home and certainly ask him (Qadri) why he did that. But what I am told it was an event to highlight the situation in Kashmir," Qureshi said.
"It had nothing to do with Lashkar-e-Tayiba. There were other political elements there. He happened to be one of them," Qureshi said in an attempt to defend his cabinet colleague.
"I think he (Qadri) should've been more sensitive, but it wasn't that he subscribes to his (Saeed's) point of view," the visiting Pakistani foreign minister said.
"Please explain why earlier this week on Monday, your government's federal minister of religious affairs appeared side by side at a public conference with the head of Lashkar-e-Tayiba, a terrorist organisation banned by Pakistan?" Qureshi was asked by a member in the audience.
The US Department of the Treasury has designated Saeed as a Specially Designated Global Terrorist, and the US, since 2012, has offered a $10 million reward for information that brings Saeed to justice.
Saeed's Jamat-ud Dawah is believed to be the front organisation for the LeT which is responsible for carrying out the Mumbai attack that killed 166 people. It has been declared as a foreign terrorist organisation by the US in June 2014.
Qadri's presence at the event with Saeed vindicated India's stand that there is no change in Pakistan's attitude towards terrorism after Prime Minister Imran Khan assumed office in August.
Qureshi asserted that Pakistan is serious in the fight against terrorism.
"We cannot surrender to terrorism. We will have to take them on and we will have to clear areas. We have successfully done that. Well it's a work in progress, we would have to continue to build on what you've achieved, but to a large extent, things have changed," he said, adding that this shift is not being recognised enough in the US.
"Cutting off training, not giving precision equipment that could've been used against terrorism, I don't know to what extent that'll help. In my view it will not help collectively," he said.
"Collectively we can achieve our shared objective. A blame game will not be productive," he said.