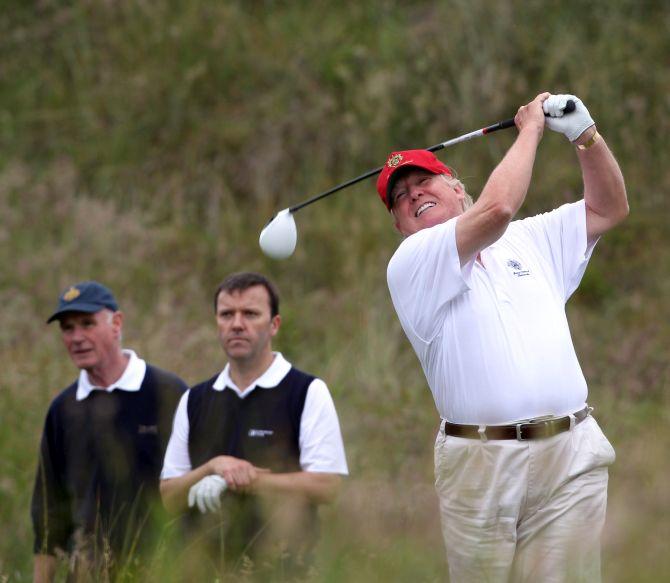 A full set of iron golf clubs owned and used by United States President Donald Trump may fetch over $30,000 (Rs 19 lakh) when it goes under the hammer, according to an auction house.
Each club features a 'True Temper Dynamic Gold S300shaft' with red-and-black 'Golf Pride Dual Durometer' grip, and the hosel of each club head is engraved, with the initials 'D Trump', according to the RR auction house in the US.
The clubs were gifted to Trump's personal caddie, Andrew Lombardo, at the Trump National Golf Club in Bedminster in New Jersey.
Trump exclusively used these irons for a two-and-a-half month period while playing with and against a variety of celebrities, powerful businesspeople, and golf professionals at Bedminster, Lombardo said.
The clubs are accompanied by a notarised letter by Lomabardo.
It states that "the clubs were given to Mr Trump by the TaylorMade CEO Mark King at the TaylorMade Media Day we had at Trump National Golf Club - Bedminster when we became a TaylorMade club and the clubs were used by Mr Trump for the rest of the season."
"The clubs were put in our bag room for the winter and next season Mr Trump had a new set of clubs from TaylorMade," the letter said.
According to the auction house, the clubs are of the utmost rarity and represent the well-documented relationship between the sport of golf and the nation's commander-in-chief and are estimated to fetch more than $30,000, said.
Long before entering the White House, the Trump name had become synonymous with many of the world's most stunning golf courses.
After premiering West Palm Beach's Trump International Golf Club in 1999, Trump proceeded to amass a total of 17 idyllic courses in a span of two decades, with locations that include the Hudson Valley, Scotland, and Dubai, with another set to open in Indonesia next year.
The auction will take place on July 12.
Image: Donald Trump tees off from the The Trump International Golf Links Course in Balmedie, Scotland. Photograph: Ian MacNicol/Getty Images