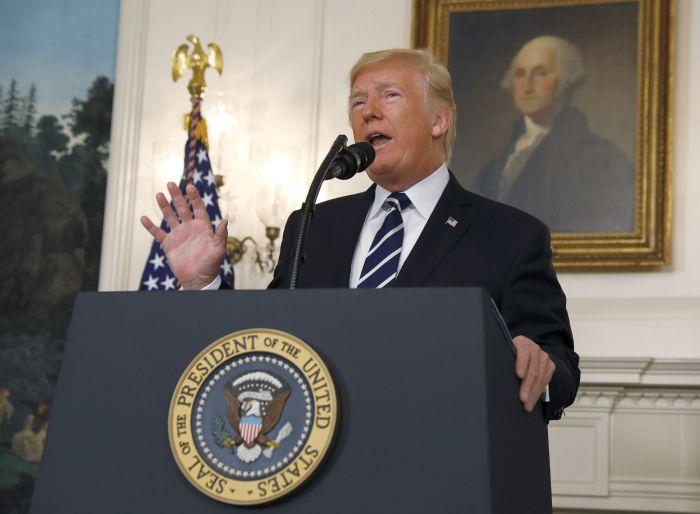 United States President Donald Trump called the mass shooting at a music festival in Las Vegas an "act of pure evil".
"My fellow Americans, we are joined together today in sadness, shock, and grief," the US president said in an address to the nation. "Last night, a gunman opened fire on a large crowd at a country music concert in Las Vegas, Nevada. He brutally murdered more than 50 people, and wounded hundreds more. It was an act of pure evil."
Trump said he would visit the city on Wednesday.
Reading from a teleprompter in the Diplomatic Reception Room, Trump mourned the victims and announced he would visit the stricken Nevada city on Wednesday. "We cannot fathom their pain, we cannot imagine their loss," Trump said of those who lost loved ones in the massacre.
As a mark of respect for the victims, the US president said the flag would be flown at half-staff at the White House, military posts and naval stations, and upon all public buildings and grounds for the next week.
He said the Federal Bureau of Investigation and Department of Homeland Security are working closely with local authorities in Las Vegas to assist the investigation into the deadliest mass shooting in modern US history, with the death toll surpassing the 49 killed at a nightclub in Orlando in June 2016.
Trump praised first responders to the scene, saying "the speed in which they acted is miraculous and prevented further loss of life."
"The speed with which they acted is miraculous, and prevented further loss of life. To have found the shooter so quickly, so soon after the first shots were fired ... shows what true professionalism is all about," he said.
The White House said the president is receiving regular briefings on the progress of the investigation. Police have yet to identify a motive for the killings.
Image: US President mourned the victims and announced he would visit the stricken Nevada city on Wednesday. "We cannot fathom their pain, we cannot imagine their loss," Trump said of those who lost loved ones in the massacre. Photograph: Kevin Lamarque/Reuters