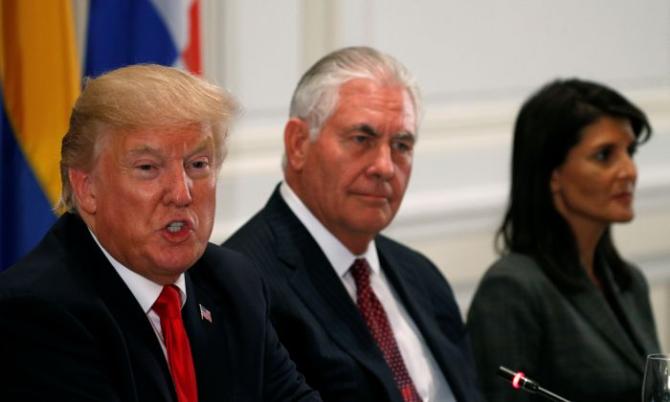 The United States is considering withholding a $255-million (Rs 1,627 crore) aid to Islamabad due to Pakistan's inability to destroy terror safe havens.
According to a New York Times report, the growing disagreement between the two countries and Pakistan's inability to neutralise the terrorist networks operating from its soil could possibly affect the decision in providing financial aid to the Islamabad.
The US administration will take the final call in a meeting in coming weeks.
'The United States, which has provided Pakistan more than $33 billion in aid since 2002, said in August that it was withholding the $255 million until Pakistan did more to crack down on internal terrorist groups. Senior administration officials met this month to decide what to do about the money, and American officials said a final decision could be made in the coming weeks,' the report said.
The report cited the major disappointment for the US was Pakistan's rejection of its demand of access to one of the abductors involved in the kidnapping of the Canadian-American family.
'When Pakistani forces freed a Canadian-American family this fall held captive by militants, they also captured one of the abductors. United States officials saw a potential windfall: He was a member of the Taliban-linked Haqqani network who could perhaps provide valuable information about at least one other American hostage,' the report said.
'The Americans demanded access to the man, but Pakistani officials rejected those requests, the latest disagreement in the increasingly dysfunctional relationship between the countries,' it added.
Earlier in July, the Pentagon said it would withhold $50 million in military reimbursements for Pakistan because the country had not taken 'sufficient action' against the Haqqani network.
The Trump administration had agreed to provide the $255 million military aid to Pakistan, with conditions attached -- the US State Department said that Islamabad could access the funds only if it acts against terror groups based in the tribal areas and stop cross-border attacks in Afghanistan.
The $255 million in military assistance was the largest portion of an estimated $1.1 billion of US aid Congress had authorised in 2016.
The US claims that more than $33 billion in aid has been provided to Pakistan since 2002.
Although the volume of annual US assistance to Pakistan stands at $1.1 billion, hundreds of millions of dollars are withheld every year under different restrictions imposed since 2011, when relations between the two countries began to deteriorate after Osama bin Laden was found in Abbottabad.
IMAGE: US President Donald Trump with Secretary of State Rex Tillerson and US Ambassador to the UN Nikki Haley in New York. Photograph: Kevin Lamarque/ Reuters