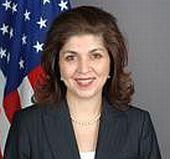 Secretary of State Hillary Rodham Clinton, who appointed Srinagar-born Farah Pandith as the first-ever US Special Representative to Muslim Communities around the world, officially swore her in on the eve of the Eid-ul-Fitr festival in the Treaty Room of the State Department in the presence of senior Obama administration officials and several of Pandith's family, friends, and professional colleagues both in government and the private sector.
The senior administration officials present at the swearing in included US Special Representative to Afghanistan and Pakistan, Richard Holbrooke, Under Secretary of State for Management Patrick F Kennedy, Director of the State Department's Policy Planning Council, Dr Anne-Marie Slaughter, and Pradeep Ramamurthy, Senior Director for Global Engagement at the National Security Council.
Clinton in her remarks, said, "We are delighted to hold this very special ceremony for our nation's first Special Representative to Muslim Communities," and acknowledged, "I did not know Farah before I came to this new position, and I am so pleased that I was able to persuade her to assume this new responsibility, which carries with it a lot of challenges that we're ready to address together."
The Secretary said, "This appointment could not have come at a more opportune time," and recalled, "As President Obama said in Cairo and Ankara, our nation seeks a new beginning with Muslims around the world, a relationship based on mutual interest and mutual respect. It's a relationship that requires us to listen, share ideas, and find areas of common ground in order to expand a peaceful, prosperous future."
Clinton acknowledged, "Now, this will not happen overnight. We understand that. We are not looking for any magic solutions. We know that it's going to take patience, persistence, and hard work. And naming a special representative is not an end in itself."
But she argued, "It is apparent now more than ever that we have to do more to promote dialogue and diplomacy, and Farah will play a key role in that process for us. During this holy month of Ramadan, we reflect on Islam's teachings of charity, community and cooperation. And I look forward to hosting, tonight, an Iftar that affirms our commitment to turn those common values into common ground and common action."
Clinton explained, "We have established this new office of the special representative to make sure that we are fully engaged. Now, it is one thing if people know everything about you and conclude you are their enemy. It is something entirely different if they know very little or nothing about you except propaganda, stereotypes, and inaccurate generalizations, and conclude that we are an enemy."
But the Secretary made clear that "this is a dialogue that is not going to focus solely on terrorism or radicalization, but instead, focus on what all of us have in common, what we all hope for our children, the kind of questions that are asked around every breakfast, lunch, and dinner table in the world about whether we're going to have a peaceful, prosperous and stable world."
Clinton said, "Farah will work to bring faith leaders, civil society groups, policymakers together to amplify the chorus of Muslim voices that reject violence and extremism."
"The richness of our different religions is one of humanity's most precious inheritances," she declared. "But falling back on my own faith tradition, it has never been easy. And I have been reminded time and time again how much work lies ahead of us."
Then, with Pandith's mother, Dr Mehbooba Anwar, holding the Quran -- on which Pandith placed her left hand and held up her right hand -- Clinton administered the oath swearing in Pandith as the first Special Representative to Muslim Communities.
A visibly emotional Pandith in her remarks, said that she should not have ever imagine "and I have a great imagination, an opportunity such as this to serve a nation that has meant so much to me and to my family and has become my own."
She recalled how "I arrived in Boston, Massachusetts, with my mother from Srinagar on July 4, 1969 -- and when I think about it our arrival on July 4 was not just symbolic, but fitting."
"I grew up with a mom who raised my brother and me to constantly think about the gifts presented to us here -- the freedom to explore and create and discover the luxury of the best education in the world, the richness of an environment that had every faith, creed, ethnicity and tradition and the foundation of a country that gave every citizen, no matter what their religion or race or gender, equal rights under the law."
Pandith said, "I grew up knowing the privilege of being American and also growing up, knowing that there was no contradiction between being a Muslim and being an American. For me, it was simply normal -- it's the American way."
"So, through working, volunteering, mentoring or joining a cause, I had the good fortune to see the world around me -- things that I did not know and people I would not normally meet. These experiences were challenging, but more importantly, inspiring. Viewing and understanding the world through the eyes of others, allowed me to think more creatively about solutions to problems and to realize the potential of partners that aren't always the most obvious.'