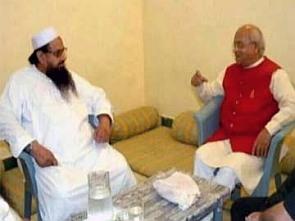 The reported meeting of a journalist considered close to yoga guru Ramdev, a staunch BJP supporter, with 26/11 mastermind Hafiz Saeed generated heat in Parliament on Monday with Rajya Sabha witnessing two adjournments during Question Hour.
Though the government clarified in the Upper House that it had nothing to do with this meeting, Congress members in both Houses sought a detailed statement from the government on the "purpose and motive behind the meeting with India's most wanted terrorist".
Congress members created uproar in Rajya Sabha forcing two adjournments during Question Hour, as they and their counterparts in Lok Sabha, as well as those from their allies, sought to know whether the journalist had sought government's permission before meeting Saeed and who facilitated it.
Congress leader Shashi Tharoor said the country needs to be taken into confidence about this issue. "We have sought from the government that a reply is needed. Why had Vaidik gone? Is he an envoy or is some back channel diplomacy taking place? This country should know. The nation needs to know, and the nation must be taken into confidence," Tharoor said.
They demanded a statement by either the External Affairs Minister or Home Minister saying this was "a serious matter concerning national security". They also alleged that the journalist was a key member of outfits close to BJP.
In Rajya Sabha, Leader of the House and Finance Minister Arun Jaitley said for India, Saeed was a terrorist and indeed involved in terrorism against India.
Government has nothing to do with "directly, indirectly or even remotely" with any journalist meeting Saeed, he said, adding "government has not sanctioned permission to anyone for meeting him (Saeed)."

The issue was raised strongly in the Lower House by K C Venugopal (Cong), N K Premachandran (RSP) and E Ahamed (IUML), with Speaker Sumitra Mahajan asking the agitated members to take their seats, saying "you can't compel the government to make a statement."

In Rajya Sabha, Congress members demanded the arrest of the journalist, with their leader Digvijay Singh raising the issue seeking to know from Jaitley if the meeting had government's sanction.

Chairman Hamid Ansari disallowed him from raising the issue saying this was not the occasion for it and took up the Question Hour. But as Congress members persisted, Ansari adjourned the House for 15 minutes.

When the House reassembled, Congress members again raised the issue, with senior member Anand Sharma saying that Saeed was the "most wanted terrorist not just in India but all over the world."
Reports said Ved Pratap Vaidik, a freelance journalist, had met the Jamaat-ud-Dawa chief in Lahore on July 2 while touring Pakistan with a group of journalists and politicians invited by a peace research institute.

India accuses Saeed, the founder of Pakistan-based terror outfit Lashkar-e-Taiba, of orchestrating the 2008 Mumbai terror attacks in which 166 people were killed. He is on India's most wanted list and has a bounty of USD 10 million on him.