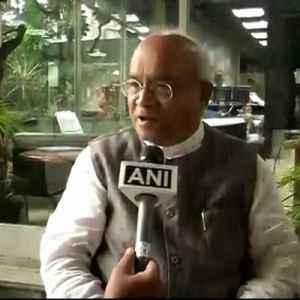 As a row erupted over his meeting with Mumbai terror attacks mastermind Hafiz Saeed, journalist Ved Pratap Vaidik, considered close to Baba Ramdev, on Monday rejected suggestions by Congress that he might have acted as government's envoy, saying he was "nobody's envoy but my own".
Vaidik also defended his action, saying he has been meeting all kinds of people and it was a "simple thing" for him.
"Journalists in Pakistan know me for decades. They made a gesture (about meeting Saeed) to me and I said alright I will meet him. It was no big deal for me. It was a simple thing. For me it was like a normal meeting. I have been meeting the Maoists of Nepal, Taliban of Afghanistan...," he told reporters.
Vaidik had met the chief of Jamaat-ud-Dawa, said to be the parent organisation of terror outfit Lashkar-e-Tayiba, in Lahore on July 2 while touring Pakistan along with a group of journalists and politicians invited by a peace research institute.
Congress leader Digvijaya Singh raised questions as to whether Vaidik met Sayeed as an envoy of the NDA government or as a personal envoy of Prime Minister Narendra Modi.
"If they raise the issue in Parliament, it is good as they will publicise me against my will. But nothing will come out of it," he said on Twitter.
Ramdev, meanwhile, came to Vaidik's defence, saying he would have tried to effect a "change of heart" in the globally-designated terrorist.
"He is a senior journalist and if in any context he is meeting a particular person, then there must be a reason behind it," the yoga guru said.
Talking exclusively to ANI, Vaidik said, "They can raise the issue in Parliament, I welcome it. But nothing will come out of it. I travelled with Salman Khurshid, Mani Shankar Aiyar. Mani Aiyar is like my big brother, and he took me to a seminar."
"As a journalist, I have had many friends there (in Pakistan). I met Hafeez Saeed when my friends told me to do so, and I did it for the benefit of my country. I put my life into danger by meeting him with high security," Vaidik added.
He also said, "Our trip was sponsored by former foreign minister Khurshid and Mehmood Kasuri's organisation as well as by Mani Shankar Aiyar."
Vaidek's response came shortly after Parliament, particularly the Rajya Sabha, was in a state of pandemonium on Monday morning, with members cutting across party lines to register their strong protests over his meeting 26/11 mastermind Hafiz Saeed in Lahore recently.
While Bahujan Samaj Party chief Mayawati termed it a serious matter and demanded a probe into it, Congress leader and former Commerce and Industry Minister Anand Sharma was quite vitriolic in his criticism of the meeting and the government's less than serious response to it.
'Govt has nothing to do with the meeting'
Meanwhile, the government today distanced itself from the reported meeting, saying it had "not sanctioned" it and asserted there is no change in its stand on the terror mastermind.
It also said that "no track-2 or track-3 diplomacy" is involved and for the government, "Hafiz is a terrorist".
Government has nothing to do with "directly, indirectly or even remotely" with any journalist meeting Saeed, Union Minister Arun Jaitley responded, adding "government has not sanctioned permission to anyone for meeting him (Saeed)."
He said Saeed was a terrorist and indeed involved in terrorism against India.
Information and Broadcasting Minister Prakash Javadekar said the government has clarified that it has no role in meeting of an individual journalist with Saeed.
"For the government, there is no change of stand as far Hafiz is concerned. For India, Hafiz is an accused in the terror attack. He is a terrorist who conspired to attack India," Javadekar told reporters outside Parliament.
Reports said Vaidik, a freelance journalist, had met the Jamaat-ud-Dawa chief in Lahore on July 2 while touring Pakistan with a group of journalists and politicians invited by a peace research institute.
India accuses Saeed, the founder of Pakistan-based terror outfit Lashkar-e-Taiba, of orchestrating the 2008 Mumbai terror attacks in which 166 people were killed.
With inputs from ANI
Photograph: Ved Pratap Vaidik / Courtesy: ANI