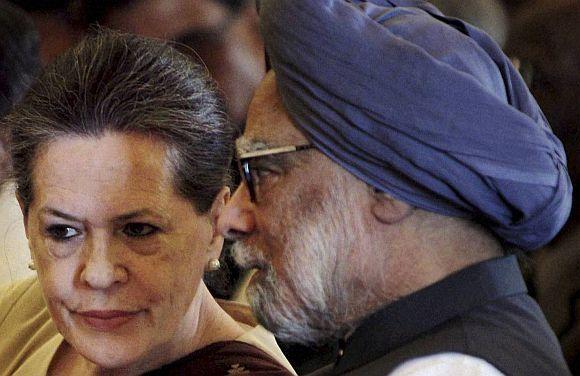 The much talked about reshuffle of the Union Cabinet will take place on Monday, ahead of which C P Joshi and Ajay Maken stepped down as Cabinet ministers.
Both Joshi and Maken had handed over their resignations on Saturday night. Their resignations were today accepted by President Pranab Mukherjee with immediate effect, a Rashtrapati Bhavan communique said.
The reshuffle will take place on Monday evening, a Rashtrapati Bhavan spokesperson said.
Joshi, who was holding dual portfolios of surface transport and highways and railways, resigned following "directives" from the Congress high command, sources close to him told PTI.
"Whatever new role the party assigns me I will perform that to the best of my ability," Joshi tweeted.
Maken, who was minister for housing and urban poverty alleviation, has expressed his desire to work for the party. His resignation comes ahead of the assembly elections in Delhi later this year.
The reshuffle of the Council of Ministers is expected to be the last one in UPA-II, with Lok Sabha elections less than a year away. This is the second reshuffle since October last year.
Prime Minister Manmohan Singh is expected to utilise the opportunity to fill several vacancies in his Council of Ministers.
Singh had earlier said that there were some vacancies and the issue of filling them up was being considered.
The latest vacancies in the Council of Ministers were created by the resignations of Union Ministers P K Bansal and Ashwani Kumar.
Bansal quit as the railway minister last month in the wake of bribery scandal involving his nephew and a Railway Board member.
Kumar resigned as the law minister following a controversy over vetting of a CBI probe report on the coal blocks allocation scam.
The railway portfolio was given to Joshi as an additional charge while that of law went to Telecom Minister Kapil Sibal as an additional ministry.
In Monday's reshuffle, ministers holding two portfolios could be divested of one, sources said.
With the Dravida Munnetra Kazhagam and Trinamool Congress withdrawing support to the UPA government, a number of slots vacated by them are yet to filled up.
Five ministers of the DMK had resigned on March 20 this year after which there has been no rejig in the Union Council of Ministers.
They were ministers of state for finance, commerce and Industry, health and family welfare and social justice. The only Cabinet minister the party had was M K Alagiri who was in-charge of chemicals and fertilisers.
Two Cabinet ministers of the DMK had resigned earlier -- Dayanidhi Maran and A Raja, the latter following the 2G spectrum allocation scam.
The Trinamool Congress had withdrawn support to the government last year.
Some ministers may also be drafted to the Congress for organisational work ahead of the next Lok Sabha polls, the sources said.
A reshuffle in the All India Congress Committee, which is long overdue, is also being firmed up.
Health Minister Ghulam Nabi Azad, who is also the general secretary in-charge of Tamil Nadu and Andhra Pradesh, could be given new responsibilities.
There are indications that AICC general secretary and media department in-charge Janardan Dwivedi may give up charge of media, a job he had done for six years now.
The names of a number of party leaders, including Ambika Soni and Digvijaya Singh, are doing the rounds for the post.
Some of the party leaders in-charge of the states are also likely to be reshuffled. The AICC reshuffle may take place as early as Sunday night.
Union Minister Jairam Ramesh is also expected to be drafted for party work but the pendency of the Land Acquisition Bill has put a question mark on whether he will quit the ministry or will be asked to do so at a later stage.
The appointment of eight party spokespersons last month was a clear indication of impending changes in the AICC.
Some senior party leaders holding charge of states have been made spokespersons amid indications that they could be discharged from the responsibility of states soon.
There is a likelihood of doing away with the practice of appointing those leaders as state in-charges who are not general secretaries, party sources said.
The reshuffle could see a few general secretaries being given the charge of more states with the AICC secretaries functioning under them being asked to handle the affairs of the respective states allotted to them, they said.
In the last few meetings that Congress Vice President Rahul Gandhi had with party office-bearers, a major complaint was that AICC secretaries are not given work by their seniors.
Among the general secretaries who are likely to be shifted out are Bihar and Punjab AICC in-charge Gulchain Singh Charak and Dhani Ram Shandil respectively, the sources said.
Shandil is now social justice and empowerment minister in the Himachal Pradesh government.
West Bengal and Jharkhand AICC in-charge Shakeel Ahmed and Mohan Prakash, who is also having the charge of Maharashtra, Jammu and Kashmir and Gujarat, have already been made party spokespersons.
The general practice in the party for last few years has been that once a leader is promoted as in-charge of a state, he no longer is a spokesperson.
Several young Congress MPs and Youth Congress office-bearers, groomed by the 42-year-old Rahul, could get prominent responsibilities in the reshuffle, party sources said.
With Rahul's elevation as vice president, there are currently nine general secretaries, eight independent in-charges of states and 34 AICC secretaries.
Jeetendra Singh, Meenakshi Natarajan, Shanimol Osman and Ashok Tanwar are among the AICC secretaries who are likely to be elevated or given additional responsibilities, the sources said.