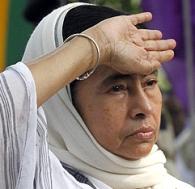 Defending its proposal for the formation of a Federal Front, the Trinamool Congress on Saturday said such an idea is relevant in the current political scenario as the United Progressive Alliance was slipping fast and the Bharatiya Janata Party was unable to come up sufficiently to be an alternative.
The party also hit out at the Left Front for opposing the idea mooted by West Bengal Chief Minister Mamata Banerjee.
"The idea of a Federal Front is to provide an alternative to the people of the country after the 2014 parliamentary elections," said senior Trinamool leader and party Member of Parliament Sougata Roy.
Roy was reacting to Communist Party of India leader A B Bardhan's opposition to the idea of a Federal Front. The CPI veteran had said that such a platform would neither be feasible nor would it inspire people's confidence.
"It (the idea) is very relevant in today's politics because the UPA is going down and BJP is not coming up sufficiently," the Trinamool leader said.
"Mr Bardhan is expressing the frustration of the Left as they are now irrelevant in national politics. At this moment, they are not in a dominant position anywhere or in any major state of the country," Roy, a former Union minister, said.
Asked if he thought Left leaders were trying to outdo Mamata by talking to Samajwadi Party chief Mulayam Singh Yadav and Janata Dal - United President Sharad Yadav at a time when talks to form a non-Congress, non-BJP alternative were gaining ground, Roy said, "The Left is in no position to outdo Mamata at this stage."
"Mamata is relevant because she is very strong in West Bengal with a large number of legislators from the state at her side," Roy said.