Another all-party meeting will attempt to resolve political concerns about the Land Reforms Bill.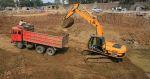 Rural Development Minister Jairam Ramesh's intervention has saved the United Progressive Alliance government embarrassment after regional parties threatened to stall the Land Reforms Bill in the Rajya Sabha.
Dr V Maitreyan of the All Indian Anna Dravida Munnetra Kazhagam and Derek O Brien of the Trinamool Congress slammed Parliamentary Affairs Minister Kamal Nath for trying to split smaller parties to get the Land Reforms Bill discussed at the all-party meeting on Tuesday.
Ramesh conveyed the AIADMK and TMC's displeasure to Prime Minister Manmohan Singh and Congress Vice-President Rahul Gandhi.
He has now secured Dr Singh's approval to include the regional parties at the next all-party meeting.
At the earlier all-party meeting, the political parties had failed to agree on how to compensate farmers for land acquired for infrastructure and industrial projects, dashing market hopes of a breakthrough.
The government wants Parliament to pass a bill aimed at speeding up major projects throttled by India's slow land acquisition process, at a time when the economy is in a slowdown. The Budget session ends on May 10.
The Cabinet approved the bill in December, but it faces opposition in Parliament. The prospective legislation has already seen about 160 amendments to the draft.
The Trinamool Congress has opposed the bill on the ground that governments should not get involved in land acquisition.
The Communist parties want the bill sent to a parliamentary standing committee for further consultation, given the large number of amendments.
In theory, the government does not need cross-party consensus to push the bill through. But the UPA has tried to find as much agreement as possible for politically sensitive legislation.
Investors feel the bill is likely to raise project costs, but it will also bring policy clarity to the process of land acquisition.